The authors of "Missing Witches: Recovering True Histories of Feminist Magic" invite you to join a circle of powerful neurodivergent Witches to call in together new ways of looking at the mind, of crafting the human, of approaching community-building and peace, and re-enchanting the world.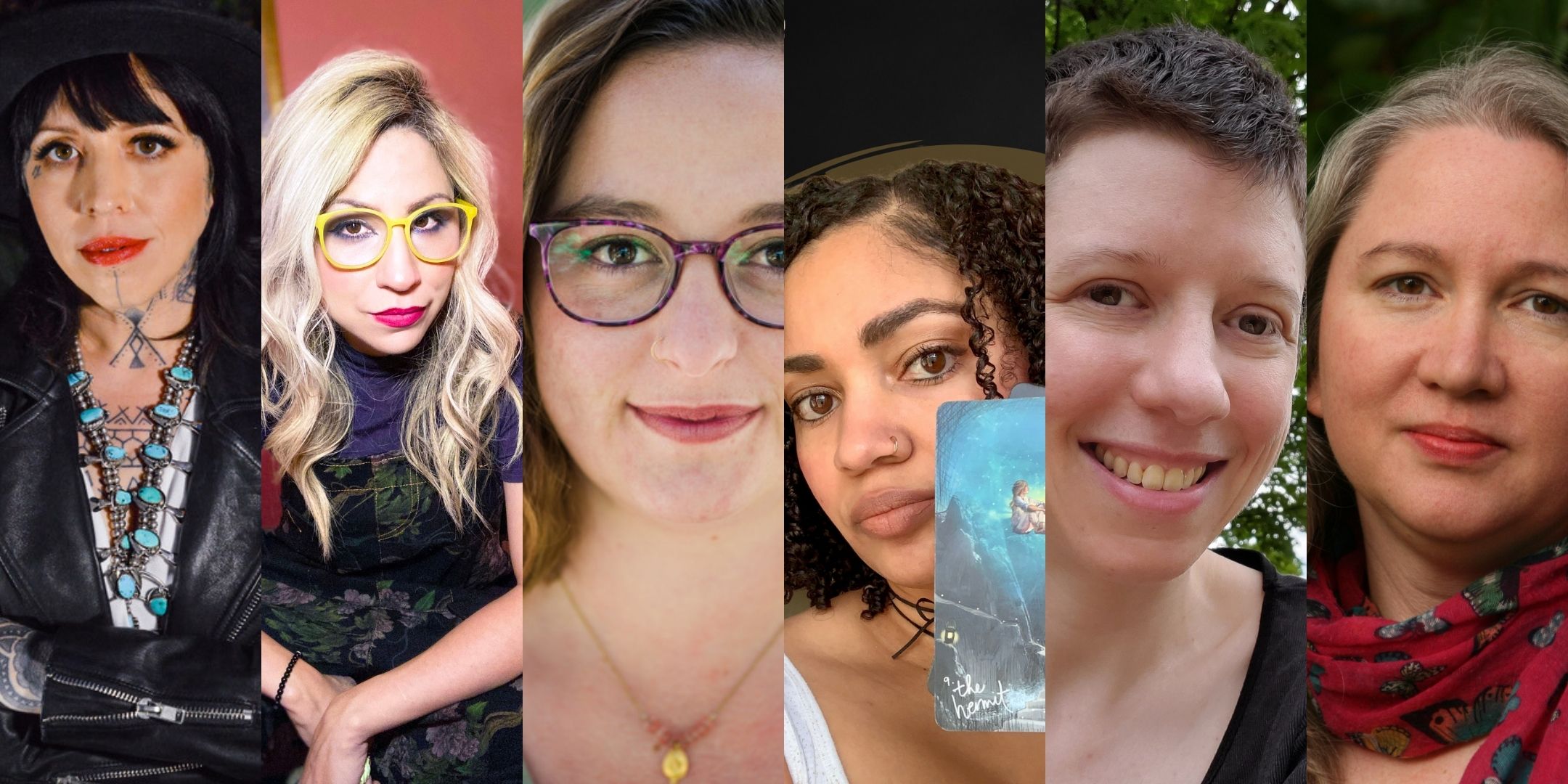 Lucy Pearce
Lucy H. Pearce is driven by a need to create, connect and inspire. A best-selling author, vibrant artist, respected publisher and editor, her work focuses on self-knowledge and healing through creativity, archetypes and cyclical living. She gives voice to the soul: the spiritual, the liminal, the darkness and discomfort and the magical in the midst of the mundane. Often described as raw, authentic and life-changing, her work encourages authentic paths to self-expression and is celebrated particularly by highly sensitive and neurodivergent women.
She is drawn to connecting with the seasons of the soul and world through her books, painting, digital art making, clay work, photography and seasonal spirals – made of pebbles, seaweed, leaves and more. She is ever drawn back to the circle and spiral and in her personal practice she loves circle dance, women's ritual, sacred space and music.
Her award-winning books include: Burning Woman; Creatrix – she who makes; Moon Time; Medicine Woman and her most recent, She of the Sea. Lucy is the founder and creative director of Womancraft Publishing, established in 2014, which publishes life-changing, paradigm-shifting books by women, for women. She is the mother of three and lives on the south coast of Ireland.
Marcella Kroll
Marcella Kroll is an artist, consultant, teacher, and published writer. As a contributing writer for Taschen, her most recent work, "The Oracle Divine," can be found in Taschen's, "Tarot. The Library of Esoterica." She is the creator and illustrator of The Dreamers Tarot, Sacred Symbols Oracle, Nature-Nurture Oracle, Cutting the Cord Zine, and PRIESTESS – A Magical Grimoire.
Embracing her multidimensional and diverse ancestral bloodlines, Marcella offers a safe container for those ready to explore the liminal and do the deep work. Her spiritual guidance and consultations provide insight, clarity, and healing on core levels to her clients and students.
She is a notable public speaker on Divination and Magic for podcasts and panels worldwide, including the Lucas Museum of Narrative Art. Her original art resides in the permanent collection of the prestigious, Rhode Island School of Design Museum. As an artist and consultant, Marcella has contributed to the continuity and development of characters for the Film and Television Industry and even in the VR Gaming world. As well being a Program Presenter for the Los Angeles Public Library, teaching Tarot for Teens and Tweens.
You can view Marcella's latest contributions to the Television Industry on HBO Max's, "Search Party", Season 5, with the season airing January 7th, 2022, where you'll see new additions to her The Dream's Tarot Deck, comprised of two specially created cards just for the show. The custom creations have inspired Marcella to create a brand-new deck, "The Roast Iconic Oracle Deck," which was released in January 2022.
Sarah Sellman
http://www.sarahsellman.com https://thirdspacecollective.org/
Sarah is a queer, neurodivergent writer + filmmaker who uses genre narratives to explore the role of myth in distorting and healing personal and generational trauma. Born and raised in the agricultural community of Alamosa, Colorado, known for its connection to the paranormal, Sarah studied Film/TV, Ancient Religion and Neuroscience at NYU. She is a founding member of Third Space artist collective, and a professional tarot reader.
Apuksɨkn Lynx (she/they)
Amanda Amour Lynx (she/they) is a queer, neurodivergent, Two Spirit, urban mixed Mi'kmaw interdisciplinary artist and facilitator currently living in Guelph, Ontario. Lynx was born and grew up in Tiohtià:ke (Montreal) and is a member of Wagmatcook FN. Their spirit name is Jilaptoq, The one who leaves footprints.
Lynx is a practicing western (modern + hellenistic) intuitive astrologer, tarot reader and energy worker. They are passionate about incorporating Mi'kmaw worldview and Indigenous star knowledges into these disciplines.
Lynx received a BFA from OCAD University in Drawing and Painting, minoring in Indigenous Visual Culture (2018), and a Social Services Worker Diploma from Humber College (2017).
Their art making is a hybridity of traditional l'nuk approaches with new media and digital arts, guided by the Mi'kmaq principles netukulimk (reciprocity) and etuaptmumk (two-eyed seeing), Lynx's artistic practice discusses land and relationality, environmental issues, navigating systems and societal structures, sexuality, cultural and gender identity, Indigenous (L'nui'smk) language resurgence, quantum and spiritual multiplicities.
They build community spaces of sharing, lateral love and kindness, committed to creating healthy futurities combining traditional knowledges, art-making, crafting, exploring social identity, pride and designing intentional space for reconnecting kin who feel unsure in conventional environments.
Amour-Lynx's most recent project (2021) includes developing, launching and facilitating a 13-week program for Two Spirit and LGBT+ youth at Canadian Roots Exchange. Virtual Beginner Two Spirit Regalia Making Program allows youth 18-29 across Turtle Island to receive access to genderfluid ceremonial teachings, pow wow culture and beginner skills in developing and ideating their own dance and spiritual regalia items. Their most recent curatorial work includes Shapeshifters at Beaver Hall Gallery (Toronto) as part of the annual Bi+ Arts Festival, showcasing the art and experiences of bisexual and queer artists, their 2019 iteration highlighting Two Spirit identity. Their writing was published as part of grunt gallery's Together Apart anthology (2020), and revue esse (2020). Lynx also worked as program assistant at Xpace Cultural Centre, a cultural programming hub serving emerging artists (Toronto) from 2016-2018. Their artwork has been featured in gallery spaces, billboards and publications nationally.
Julie Nowak
Julie Nowak (M.Ed.) is an educator, activist, consultant, and soon-to-be podcaster based near Tkaronto (known as Toronto, Canada). With a background in education, community development, public health, and the food justice movement, she founded "The Seasonal Body" – a project exploring the intersection of disability justice, nature connection, body liberation, and food justice. This focus stems from her personal experience of living as a disabled person with multiple chronic illnesses after traumatic brain injury, as well as finding healing from disordered eating through therapeutic farming. Julie is also passionate about linguistics and language justice, and can optionally provide her work in English, French, and Spanish. You can follow her at SeasonalBody.org, or on social media: @SeasonalBody on Facebook and Twitter, and @TheSeasonalBody on Instagram.
Brandi Spradling
https://www.instagram.com/venusinretrotarot/
http://www.youtube.com/c/VenusInRetroTarot/
Brandi (she/her/they) is a tarot reader, teacher, intuitive astrologer and eclectic witch. As a black, queer, neurodivergent, disabled woman, safety and inclusivity are essential to her practice and offerings. She blends multiple forms of divination to provide unique insight to the collective and when working with individual clients.
Brandi embraces her autism and ADHD diagnoses as superpowers— allowing her to make connections that go beneath the surface of traditional divinatory meanings. She loves showing others how to do the same in their own spiritual practice with a mix of practical advice and occult knowledge. Brandi takes great pride in her ability to be a safe container for others to show up in all of their vulnerabilities and do deep soul work that leads them to their authentic truth.
Brandi has a YouTube Channel where she releases weekly content that provides inclusive tarot content using systems that she continues to develop and refine. Her aim is to create the tarot content that she couldn't find, but wanted to see on YouTube when she first awakened. If she was searching for tarot content that focused on more than love and money, then others must be, too. She releases monthly collective tarot readings, monthly sign-based readings that focus on specific areas of growth, pick-a-card readings based on topics like mental health, grief, self-love, and social justice work.
Brandi has two forthcoming projects to look out for— a visual reboot of her podcast Venus In Retrocast (coming to YouTube), and a Kickstarter for The Tarot Spread Deck.
Venus In Retrocast is a tarot podcast where Brandi teaches listeners + viewers how to make connections between tarot cards using astrology. By looking at a tarot card's rulership and the cards related, it gives much deeper insight into what messages the tarot may be trying to send. It's a whole new way of learning tarot— a completely free course in podcast form.
The Tarot Spread Deck is an oracle deck that allows anyone to mix and match questions to make their own tarot spreads. The possibilities are endless. Pull a card for a daily draw question, lay out cards for specific questions you want to ask, or shuffle the cards and let the deck decide. It's a choose-your-own-adventure for tarot readings. The Kickstarter is forthcoming by summer 2022.
Brandi has also been a guest on "Between the Worlds Podcast" Episode 32, where she talks about the 4 of Swords. Part lesson, part personal story, and a meditation on the importance of rest in getting back to Self.