In the 90s, we didn't start 'girl bands' because we wanted to.  We did it because we had to.  You hear the phrase, "No cock, no rock" enough times and you start to get the sense that you won't be invited to jam in that drummer's parents' basement this weekend.
We would never be the boys in the band, so we joined forces, played guitar together until we met a girl who played the drums.  We formed groups around our own alienation, and that, to me, is punker than punk.
And sometimes this is all very hard cuz this world doesn't teach us how to be truly cool to each other and so we have to teach each other. (Bikini Kill issue two)
Bikini Kill was the name of both a band and a zine, each born with the Olympia Washington DIY punk scene of 1990 as incubation space for Kathleen Hanna's ideas.  She had already been creating and handing out flyers with slogans like "Burn down the walls that say you can't" and "Cry in public" and "Resist psychic death."  

Both the band and the eponymous zine sought to create a safe and protective space to talk about real feminist issues like domestic violence, workplace sexism, and rape culture. As the band went on tour, spreading their gospel through amplifiers in grungy venues, the zine was being mailed out to newly inspired wannabe riot grrrls across the country.  
Kathleen's Riot Grrrl Manifesto was published 1991 in the zine's second issue, BIKINI KILL 2.
BECAUSE we hate capitalism in all its forms and see our main goal as sharing information and staying alive, instead of making profits of being cool according to traditional standards.

BECAUSE we are angry at a society that tells us Girl = Dumb, Girl = Bad, Girl = Weak.

BECAUSE we are unwilling to let our real and valid anger be diffused and/or turned against us via the internalization of sexism as witnessed in girl/girl jealousism and self defeating girltype behaviors.

BECAUSE I believe with my wholeheartmindbody that girls constitute a revolutionary soul force that can, and will change the world for real.
BECAUSE doing/reading/seeing/hearing cool things that validate and challenge us can help us gain the strength and sense of community that we need in order to figure out how bullshit like racism, able-bodieism, ageism, speciesism, classism, thinism, sexism, anti-semitism and heterosexism figures in our own lives.
RIOT GRRRL MANIFESTO - published in 1991 in the BIKINI KILL ZINE 2.
As a child, Bikini Kill founder Kathleen Hanna's mother took her to a feminist rally to hear a speech by Gloria Steinem.  Years later Kathleen would sit down with Gloria Steinem to talk about inter-generational feminism. Kathleen describes the first roots of her own zine making, saying "I used to cut pictures out of [Gloria's feminist magazine Ms Magazine] and make posters that said "Girls can do anything", and stuff like that."
And Kathleen herself has inspired decades of feminist discourse, proponents and detractors.  Each generation of visionaries and pioneers carves a path for the next to take it farther.
Read the Riot Grrrl Manisfesto in its entirety and check out a visual archive of the zine and the movement.
And if that makes you hungry for more, while films like Netflix's Moxie carry a superficial echo of a Riot Grrrl ethos, I'd instead recommend snacking on We Are Lady Parts for a better taste of fictionalized 21st century feminist punk, and The Punk Singer, a documentary about Kathleen Hanna for dessert.
May you be inspired to contribute your "skills, energy, anger, creativity and curiosity" to the Missing Witches coven, or start your own Zine.  Revolution, our style, now.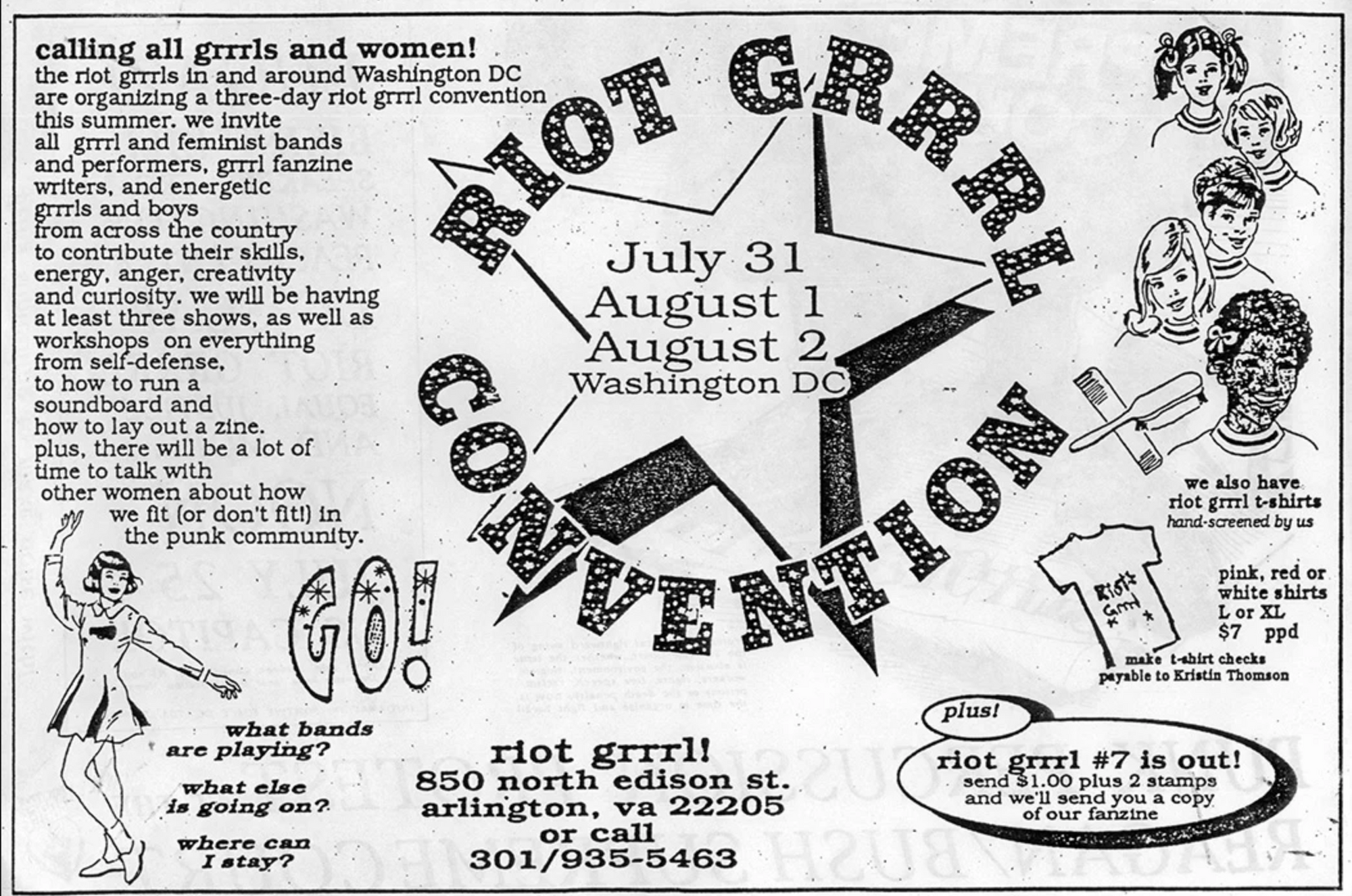 If you have an idea for a Missing Witches Zine submission, we'd love to hear from you. Welcome home!
---
PS I'll be doing more Zine history posts to keep us inspired and aware of possibility. xo
---
Amy (she/they) is the co-founder of Missing Witches and co-author of Missing Witches: Reclaiming True Histories of Feminist Magic and New Moon Magic: 13 Anti-Capitalist Tools for Resistance and Re-Enchantment.
Amy supports the Native Women's Shelter of Montreal and Black Witch University.