I first encountered Vaginal Davis during one of many days spent entranced by the work of videographer Nelson Sullivan. Nelson spent most of the 1980s cruising the Downtown Manhattan club scene with a video camera in tow. His Fifth Avenue project is a time capsule, a window into a lifestyle, a museum of a place and time.
In one "episode" (keep in mind these entries were largely unedited, and feel more like placing viewers inside Nelson's eyes, rather than an attempt to present a coherent narrative) Vaginal can be found in a steamy crowded greenroom, visiting New York from Los Angeles, backstage at the Pyramid club, clutching a stack of Xeroxed, stapled papers, which were her art, her Zine, chatting and handing out copies of Fertile La Toyah Jackson Magazine. Pop group Deee-lite putters in the background.
Vaginal Davis' Zineography is vast:
1972-1975 Dowager, 1976-1980 Crude, 1982-1991 Fertile La Toyah Jackson Magazine, 1993- Shrimp, 1994- Yes, Ms. Davis, 1995-1997 Sucker, 
and she continues her work, her Zine, in blog form to this day.

Moussee Magazine calls her an "icon of Los Angeles queer and punk scene, a foundational figure of its music, performance, theater, video art, and club counterculture since the late 1970s."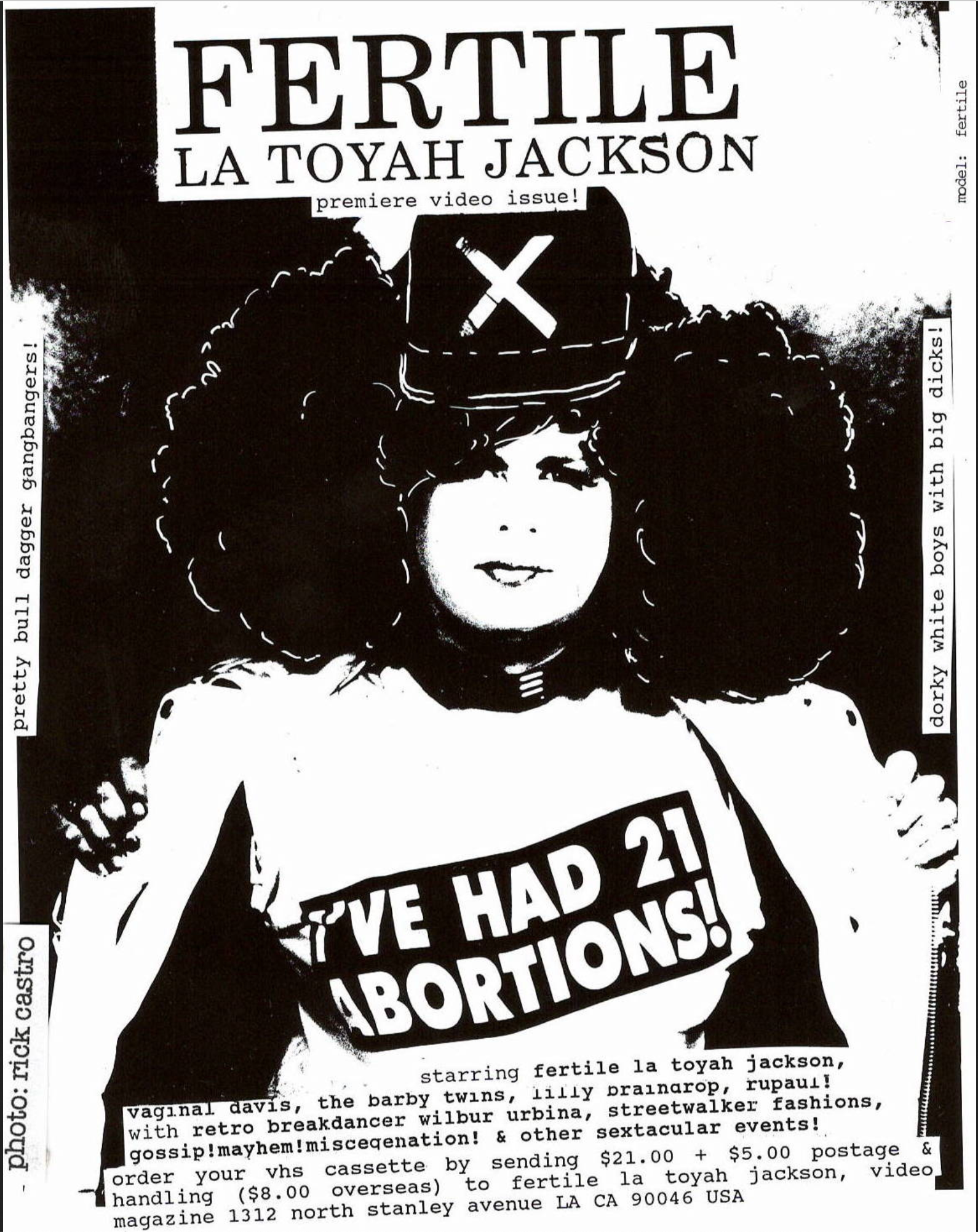 Vaginal Davis, who named herself after the beloved activist Angela Davis, became a legendary figure in the punk and queer scenes, and has long been an advocate for marginalized voices. Her zines, like the vibrant pages of a revolution, have become essential tools for representation and resistance.
Vag's zines are not just a medium for self-expression; they are a powerful vehicle for challenging societal norms and amplifying the voices of the marginalized. Through her zines, she creates spaces of belonging for those who have been historically excluded from mainstream narratives. Vag's work is a testament to the power of zine culture in fostering communities and empowering individuals.
She unearths the stories of those who have been overlooked or deliberately silenced. Her zines celebrate the lives and experiences of queer people, people of colour, and gender non-conforming individuals. By centering these voices, Davis confronts the erasure of marginalized communities and reclaims their rightful place in history.
Vag emerged from LA's punk scene - too punk, she says, for LA's gay scene, and sometimes she found herself feeling too gay for the punk scene, Vag nonetheless carved herself a space for political and self-expression even if she never exactly fit in.
Her zines are filled with vibrant visuals, provocative poetry, and intimate personal stories. They challenge societal norms, question authority, and ignite a spirit of rebellion.
In a world that too often homogenizes and erases, Vaginal Davis zines are a powerful testament to the importance of representation and reclaiming one's narrative. They serve as a rallying cry for all those who have been silenced, reminding us that our stories matter and deserve to be heard. Davis's zines are a testament to the transformative power of art and the enduring spirit of resistance.
Vaginal Davis is the key proponent of the disruptive performance aesthetic known as terrorist drag. Disrupting the cultural assimilation of gay-oriented and corporate-friendly drag, she positions herself at an uncomfortable tangent to the conservative politics of gay culture, mining its contradictory impulses to interrupt the entrenchment of its assimilatory strategies. A self-labeled "sexual repulsive," Ms Davis consistently refuses to ease conservative tactics within gay and black politics, employing punk music, invented biography, insults, self-mockery, and repeated incitements to group sexual revolt – all to hilarious and devastating effect. Her body a car-crash of excessive significations, Vaginal Davis stages a clash of identifications within and against both heterosexual and queer cultures, and Black and Hispanic identities. From bubblegum songstress Graziela Grejalva to aging deviant John Dean Egg III, Davis's personas reject the internal counter-cultural mandate to refuse self-criticism, instead problematising the functions and assumptions of normative trends within the margins. By renewing uncertainties within alternative cultures and identities, Vaginal Davis opens up spaces for their continual struggle towards renewed and greater challenges, over and against these practices' timid appeasement and appropriation by the mainstream.
-Dominic Johnson
Frieze Magazine
Vaginal Davis, an enigmatic force of creativity and rebellion, joins the Missing Witches pantheon as a modern-day witch in the realm of punk and queer culture.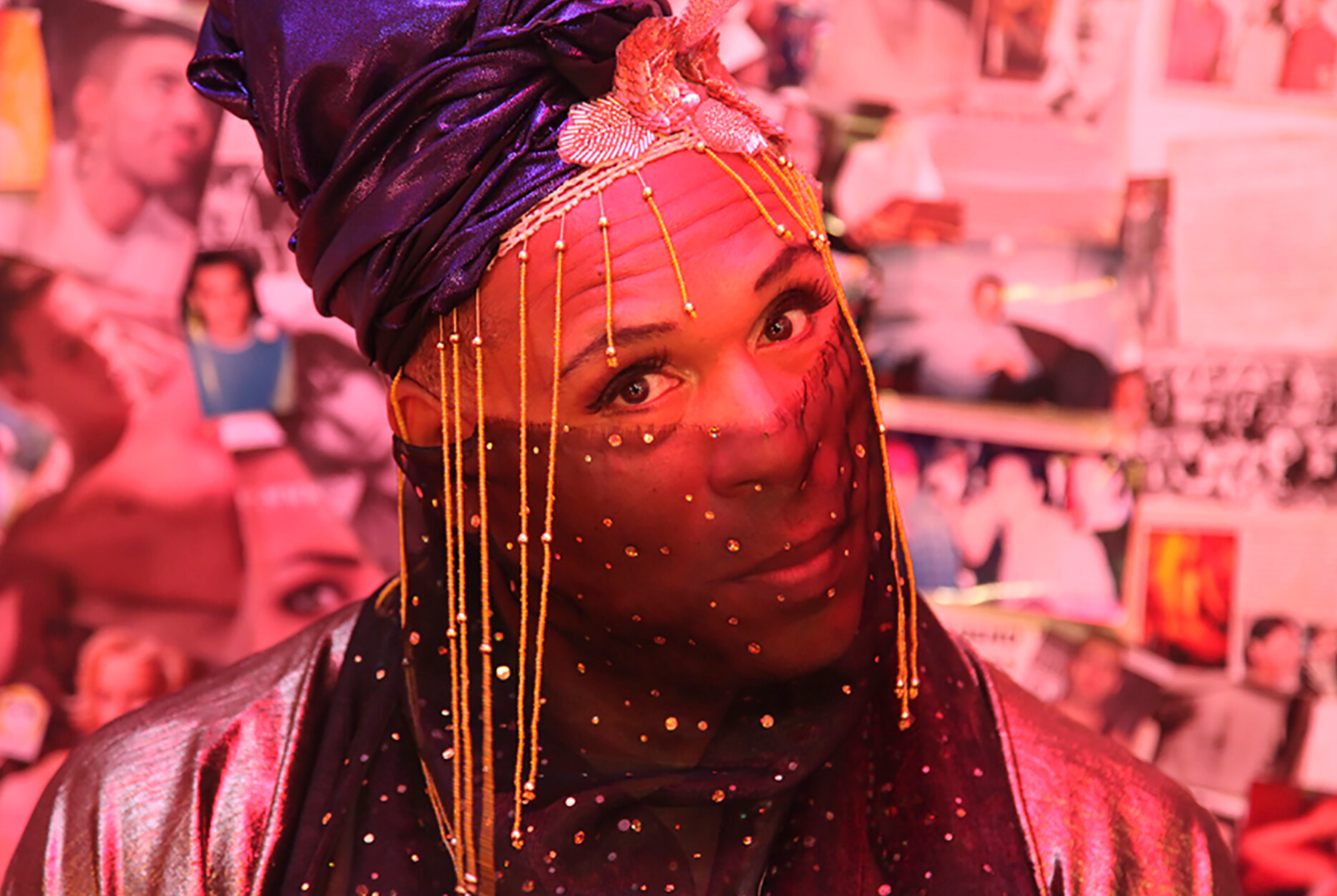 ---
PS I'll be doing more Zine history posts to keep us inspired and aware of possibility. xo
Interested in contributing to the Missing Witches Zine? Check out our submissions info and get in touch!
---
Amy (she/they) is the co-founder of Missing Witches and co-author of Missing Witches: Reclaiming True Histories of Feminist Magic and New Moon Magic: 13 Anti-Capitalist Tools for Resistance and Re-Enchantment.
Amy supports the Native Women's Shelter of Montreal and Black Witch University.