Pick up any instrument. Stretch your creative self out into the world around a ukulele, guitar, a tambourine. Choose an extension of your body that feels fun. Sing alone at your altar. Sing with no thought of performance or recording or success or failure. Sing with all of us, all over the world, remembering, conjuring, insisting upon LOVE.
Risa is secretly practicing guitar this week, a little bit each day, building muscle memories around loops of love. Amy sang Never Ending Song of Love at Risa and Marc's tiny backyard wedding last summer when Marc's mother was still with us and everyone cried and hollered together. Love sang out in defiance of death. Now Risa is singing it whenever Marc leaves the house, feeling the chords make their way into her hands, the heart-lifting repetition, preparing to sing it as a gift.
The prescription is to join in. This prescription is a spell, let us sing of love. We are Love's celebrants, we dedicate ourselves to it in song, we sing of a love that goes on and on. (Here are Amy's simplified chords to the Never Ending Song of Love / Tom Petty - Yer So Bad medley that we talk about in the episode. Let's rock. ;)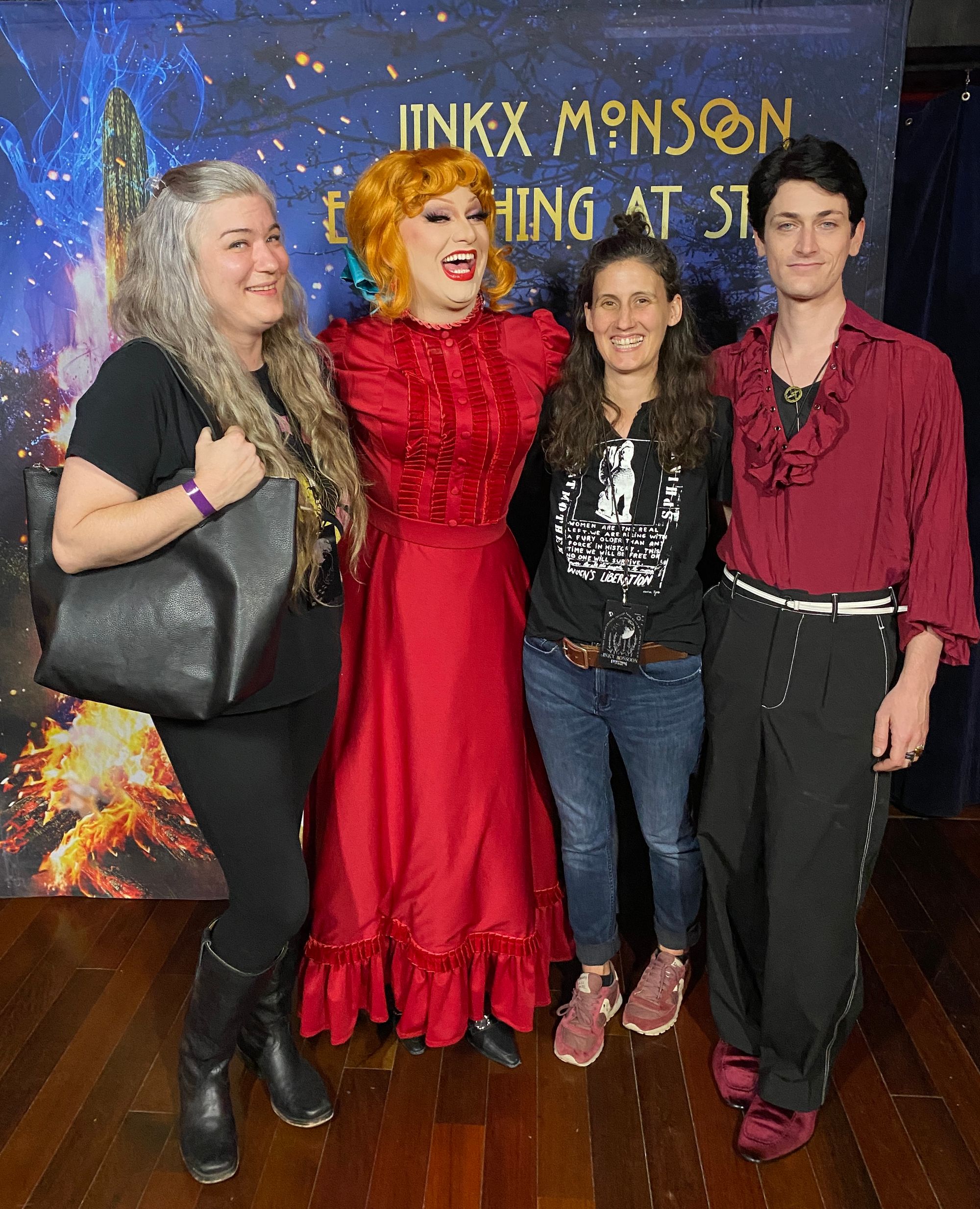 Amy and Risa spent a day delirious in Montreal this week, thrilled to have been invited to see Queen of all Queens, Jinkx Monsoon, again and to get to hug her and spend time with her voice, her bravery, her powerful wisdom, and hope-restoring hilarity. We sat in the sun with our beloved friend, Kenneth Friend, who we first interviewed with Jinkx back in 2020, and glowed with thanks for that feeling of meeting someone who feels right away like family. If you get to see the Jinkx family's live show "Everything at Stake" as it tours North America this summer we promise you'll laugh and cry and feel thunderously uplifted.
In honour of the Jinkx family magic, Amy wants you to bop out to Jinkx's She Evil (ft. Fred Schneider) "They say that girl she evil. That's how they know she evil."
Who is telling you what you are? Why should you believe them?
Jinkx finished her show in Montreal with the Lavender Song, an anthem written and recorded in Weimar Germany in 1921. And so the last piece of the prescription is to learn the words, learn the song, learn this history with your body. Sing to restore your body's readiness to continue to be brave, for love.
Round us all up, send us away
That's what you'd really like to do
But we're too strong, proud, unafraid
In fact we almost pity you
You act from fear, why should that be
What is it that you're frightened of
The way that we dress, the way that we meet
The fact that you cannot destroy our love
We're going to win our rights
To lavender days and lavender nights
This content is only available to subscribers
Subscribe now and have access to all our stories, enjoy exclusive content and stay up to date with constant updates.
Unlock content
Already have an account? Sign In