Coming September 2023: Harness the power of New Moon Magic with 13 essential practices for the modern witch–one for each New Moon of the year.
In New Moon Magic: 13 Anti-Capitalist Tools for Resistance and Re-Enchantment, Missing Witches authors Risa Dickens and Amy Torok offer Witchy practices to change your life and reshape the world, without falling prey to the commercialization that belies the true heart–and power–of magic.
Witchcraft is praxis: how we do what we believe, and how we make those beliefs manifest. New Moon Magic is an offering to all witches, honoring the Craft's roots in centuries of empowerment, survival, and resistance–despite capitalism's attempts to co-opt and dilute its practice.
Here, Dickens and Torok – authors of Missing Witches: Reclaiming True Histories of Feminist Magic – reclaim tools of witchcraft as the ways and means of enchantment, imbued with magic that resists commodification and capitalism. The authors introduce 13 New Moon practices, each paired with a Witch who embodies the Craft.
With foreword by Dr. Christena Cleveland.
"This is a beautiful guide to healing, that emphasizes healing comes in many forms, and that reminds us that we are not alone."— Sarah Faith Gottesdiener of Moonbeaming and Many Moons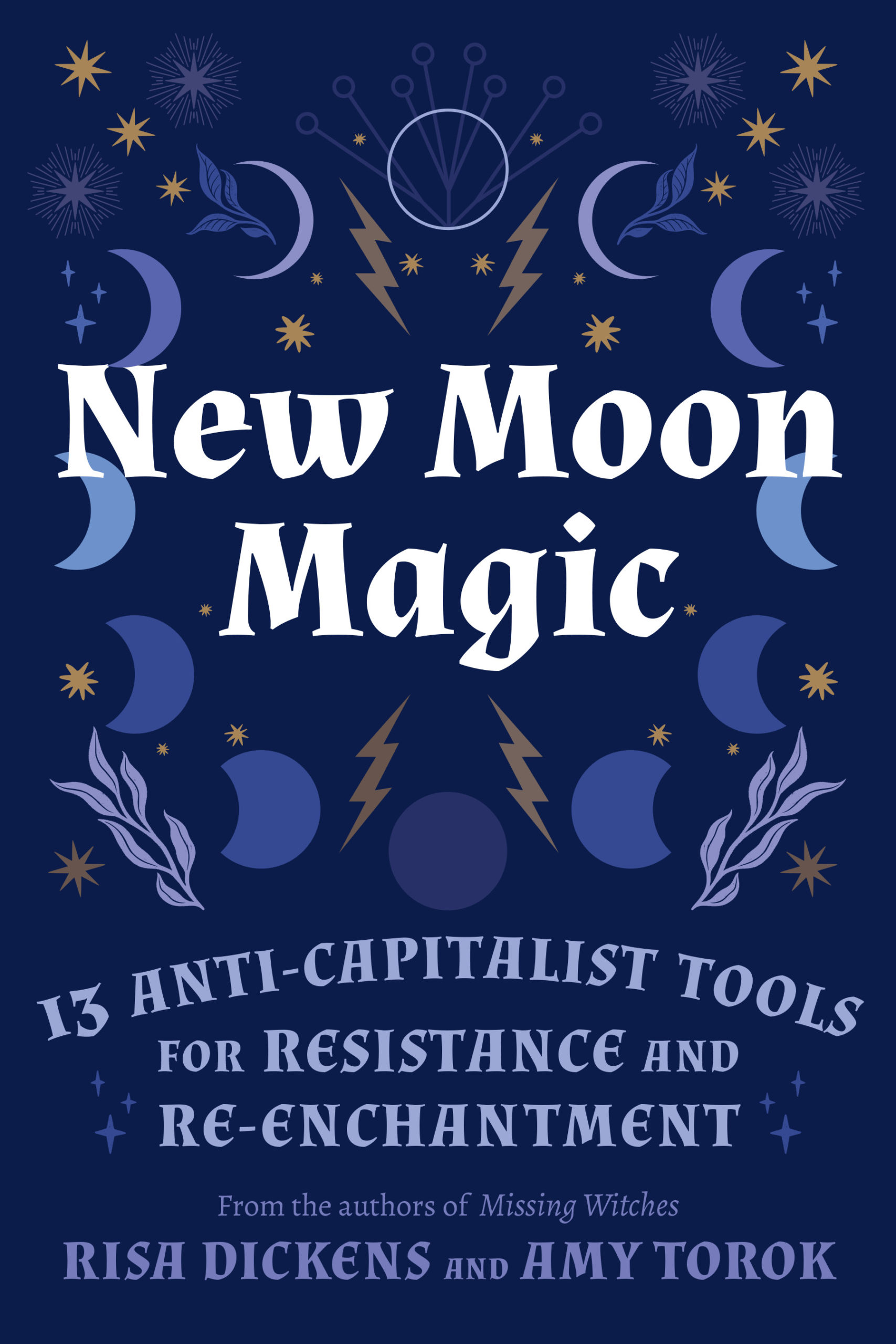 Now available for pre-order - coming sept 2023
Through historical research, interviews, and the authors' own raw personal stories, New Moon Magic offers wisdom and guidance from real Witches past and present. It shows you how to take up tools and practices, discover (or rediscover) your own magic, and nurture a Witchcraft that creates instead of consumes.

Fresh, fierce, and unapologetically feminist, this is both guidebook and rallying cry–an intersectional and inclusive magical praxis that resists, disrupts, and opens the door to nourishment, abundance, and transformation.
This book is more than a book. It is an ecosystem teeming with modern Witches, ancestral agitators, anarchic seeds, and embodied practices. —Sophie Strand, author of The Flowering Wand: Lunar Kings, Lichenized Lovers, Transpecies Magicians, and Rhizomatic Harpists Heal the Masculine and The Madonna Secret.
Imagine, for a moment, entering a portal where you are encircled and empowered with the words, the magic, and the wisdom of historical and modern Witches. By holding this book in your hands, you hold the key. —Veronica Varlow, author of Bohemian Magick: Witchcraft and Secret Spells to Electrify Your Life.
With their first book, Amy and Risa invited us all on a journey of story and magic, that followed the rhythm of the Sun.  

Now we are invited to make another journey; to see ourselves, others and our tools through the ever changing and potent phases of the Moon.  

Come join us, join Risa and Amy and let us all make magic together! – Jinkx Monsoon, Queen Of All Queens