Coming September 12, 2023:
Harness the power of New Moon Magic with 13 essential practices for the modern witch – one for each New Moon of the year.
In New Moon Magic: 13 Anti-Capitalist Tools for Resistance and Re-Enchantment, Missing Witches authors Risa Dickens and Amy Torok offer Witchy practices to change your life and reshape the world, without falling prey to the commercialization that belies the true heart–and power–of magic.
Witchcraft is praxis: how we do what we believe, and how we make those beliefs manifest. New Moon Magic is an offering to all witches, honoring the Craft's roots in centuries of empowerment, survival, and resistance–despite capitalism's attempts to co-opt and dilute its practice.
Here, Dickens and Torok – authors of Missing Witches: Reclaiming True Histories of Feminist Magic – reclaim tools of witchcraft as the ways and means of enchantment, imbued with magic that resists commodification and capitalism. The authors introduce 13 New Moon practices, each paired with a Witch who embodies the Craft.
This book is more than a book. It is an ecosystem teeming with modern Witches, ancestral agitators, anarchic seeds, and embodied practices. This book channels the moon's medicine of mutability and movement. There is a medicine available for every type of weather and every type of body.
—SOPHIE STRAND, author of The Flowering Wand and The Madonna Secret
This is a beautiful guide to healing, that emphasizes healing comes in many forms, and that reminds us that we are not alone.
— Sarah Faith Gottesdiener of Moonbeaming and Many Moons
This book is a call to action for those who want to be change agents without increasing the chasm between the social and political. I say this as a coven member, a Patreon contributor, a guest on the Missing Witches podcast, and a fan of their first book. As a practitioner of my own beliefs, I can attest to this book's wisdom and that it can be used by and shared with any magical tradition... I can't wait for you to experience this book for yourself and to learn and grow in your practice and join the cause of resistance to capitalism.
—SHERRY SHONE, author of The Hoodoo Guide to the Bible and Hoodoo for Everyone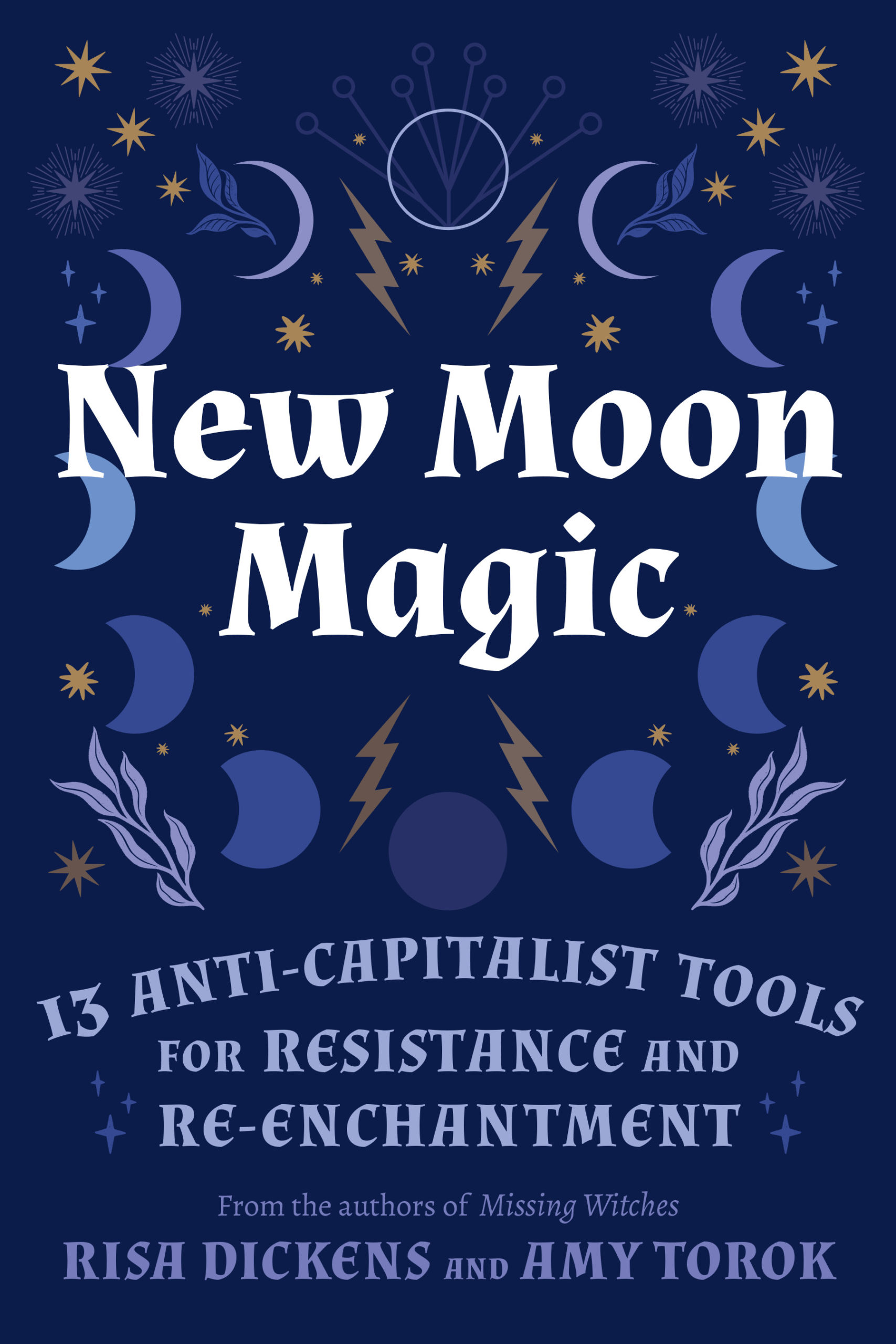 Now available for pre-order - coming sept 12, 2023
Through historical research, interviews, and the authors' own raw personal stories, New Moon Magic offers wisdom and guidance from real Witches past and present. It shows you how to take up tools and practices, discover (or rediscover) your own magic, and nurture a Witchcraft that creates instead of consumes.

Fresh, fierce, and unapologetically feminist, this is both guidebook and rallying cry–an intersectional and inclusive magical praxis that resists, disrupts, and opens the door to nourishment, abundance, and transformation.
Imagine, for a moment, entering a portal where you are encircled and empowered with the words, the magic, and the wisdom of historical and modern Witches. By holding this book in your hands, you hold the key.
—Veronica Varlow, author of Bohemian Magick: Witchcraft and Secret Spells to Electrify Your Life.
With their first book, Amy and Risa invited us all on a journey of story and magic, that followed the rhythm of the Sun.  

Now we are invited to make another journey; to see ourselves, others and our tools through the ever changing and potent phases of the Moon.  

Come join us, join Risa and Amy and let us all make magic together!
– Jinkx Monsoon, Queen Of All Queens
NEW MOON MAGIC is available at our partner indie booksellers below, and wherever 🔥 books are sold.
Special thanks to our wildly inspiring partners - not just for carrying our book and inviting their communities to Witch + Stitch with us - but for everything they do to build communities, celebrate diversity, and protect every person's right to tell their story and speak the TRUTH in the face of oppression, marginalization, and violence. This is the most profound magic and we feel so lucky to be linked to you.
Charis Books and More, Georgia
Charis Books and More is the South's oldest independent feminist bookstore, celebrating radical and independent voices since 1974! Together with Charis Circle, our 501c3 programming nonprofit, we exist to foster sustainable feminist communities, to work for social justice, and to encourage the expression of diverse and marginalized voices. We are located in Decatur, GA, and we are proud to be the school store partner for Agnes Scott College, a historic women's college. We specialize in diverse and unique children's books, feminist, and cultural studies books, books on anti-racism and ending white supremacy, and lesbian, gay, bisexual, transgender, and queer fiction and non-fiction.
Order New Moon Magic from Charis Books and More
Books & Books@The Studios of Key West, Florida
Books & Books @The Studios of Key West is the brainchild of a small group of local booklovers, led by George Cooper, who previously founded the Tropic Cinema, and his wife, the beloved writer Judy Blume. It is a joint effort of two respected organizations, the Books & Books stores of the Miami area and The Studios of Key West, each of which brings its particular capacities to the venture. We're Key West's locally-owned, nonprofit, independently-minded neighborhood bookstore.
Order New Moon Magic from Books & Books @ The Studios of Key West
Montana Book Co., Montana
Montana Book Company is an independent, LGBTQ+, locally-owned, bookstore in downtown Helena, Montana. Our welcoming and inclusive space is the perfect place to find the latest book releases and classic titles. We are defenders of equality, anti-fascist, anti-racist and community centered.
Order New Moon Magic from Montana Book Co.
A Room of One's Own Bookstore, Wisconsin
A Room of One's Own is an independent, queer and trans owned bookstore in Madison, Wisconsin on Ho-Chunk land. In 1975, A Room of One's Own was first founded in downtown Madison as a feminist bookstore named after Virginia Woolf's 1929 essay of the same name. Today, Room continues on that legacy as a radical queer cultural hub in Madison. We seek to center marginalized voices, small presses, and be a place for learning and liberation through our events, partnerships, and curated selection of books of all genres.
Order New Moon magic from A Room of One's Own
Blue Cypress Books, Louisianna
Blue Cypress Books is a local, woman-owned, New Orleans bookstore and has been a warm and welcoming place to find high-quality used and new books since 2008. BCB is an inclusive space where we speak our minds and invite open conversations. They are proud members of the American Booksellers Association and the Southern Independent Booksellers Association, and are consistently rated as a top bookstore in the city. More info here.
Windowseat Books, BC
Windowseat Books is a cozy independent bookstore in the Old City Quarter of Nanaimo, British Columbia. The space is small but the books are mighty! Tired of working corporate, owner Andrée Bizier decided to combine some of her favourite things like reading, adventure and chaos and opened Windowseat Books in August 2018 on a whim. 5 years later, it is still the best journey she has ever undertaken. Reading is cool!!
Order New Moon Magic from Windowseat Books
De Stiil, Quebec
Bookseller Aude Le Dubé has lived about a thousand lives. She's been a translator, a copywriter and a press attaché, and has penned two novels, one of which was awarded the Grand prix de l'association des écrivains bretons. Before De Stiil was a bookshop, it was a clothing store called État de Style. But when the city went into lockdown, she did what a lot of people did: question what she wanted to do with her life. Next season's line was drawn up and about to be patterned, but her heart wasn't in it anymore. "I felt like the world needed books more than it needed clothes." Via Toronto Star.