This film was first commissioned by Ebony Noelle Golden and Jupiter Performance Studio. The film was screened during Watering Whole, the studio's climate reparations initiative.
This video started as a conversation I had with Ebony about the fact that I truly believe we (witches) can influence nature.. politics...the world. To me, this gift (witchcraft, moving energy etc) is the most important work of witches/spritiualists etc. especially at this moment in time. When I said this to her she said..you need to be part of my project then. When she saw it she called me and said " we have been doing it wrong." There are other ways to make change. There are other conversations we need to have.
---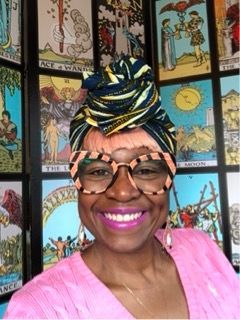 Zoë Flowers is an author, content creator, and healing practitioner whose work can be found in several anthologies, journals, and interviews. In 2004, Zoë interviewed survivors of domestic and sexual violence. From Ashes to Angel's Dust: A Journey Through Womanhood is the book that emerged from those interviews. Her second book In Praise of The Wytch was published in 2022.

As a Healer, she facilitates individual and group healing sessions, retreats, and workshops from New York to Ecuador. As an Artist, Zoë creates films, theatrical productions, and books that invite audiences to explore social issues, healing, and spirituality. Her work has been presented at, The Black Women's Arts Festival, Alternate ROOTS, The White House's United State of Women Summit, Bergen Community College, Bowie State University, Yale University, The State University of New York Adirondack, Smith College, Brown University, and conferences, theaters, and community- based organizations across the US.

www.iamzoeflowers.com | https://linktr.ee/iamzoeflowers | TheMagickHourZ | Iamzoeflowers | Themagickhourz | Schedule a session | Be a guest on my podcast
Zoe supports: Black Women United – For the Protection and Advancement of Black Women and Girls.
New Women Space
https://www.newwomenspace.com
Poetic Theater Productions
https://www.poetictheater.com/
---
Interested in contributing to the Missing Witches Zine? Check out our submissions info and get in touch!
---