For this special episode we invite you to join a circle of powerful neurodivergent Witches as we call in together new ways of looking at the mind, of crafting the human, of approaching community-building and peace, and re-enchanting the world. NOTE: You can find the transcript from the closed captioning for this event below. It's not a perfect transcript – for one thing it cuts off right before the end, and for another it has the flaws of a machine-generated speech-to-text – but it's a start and we're glad to take that first step.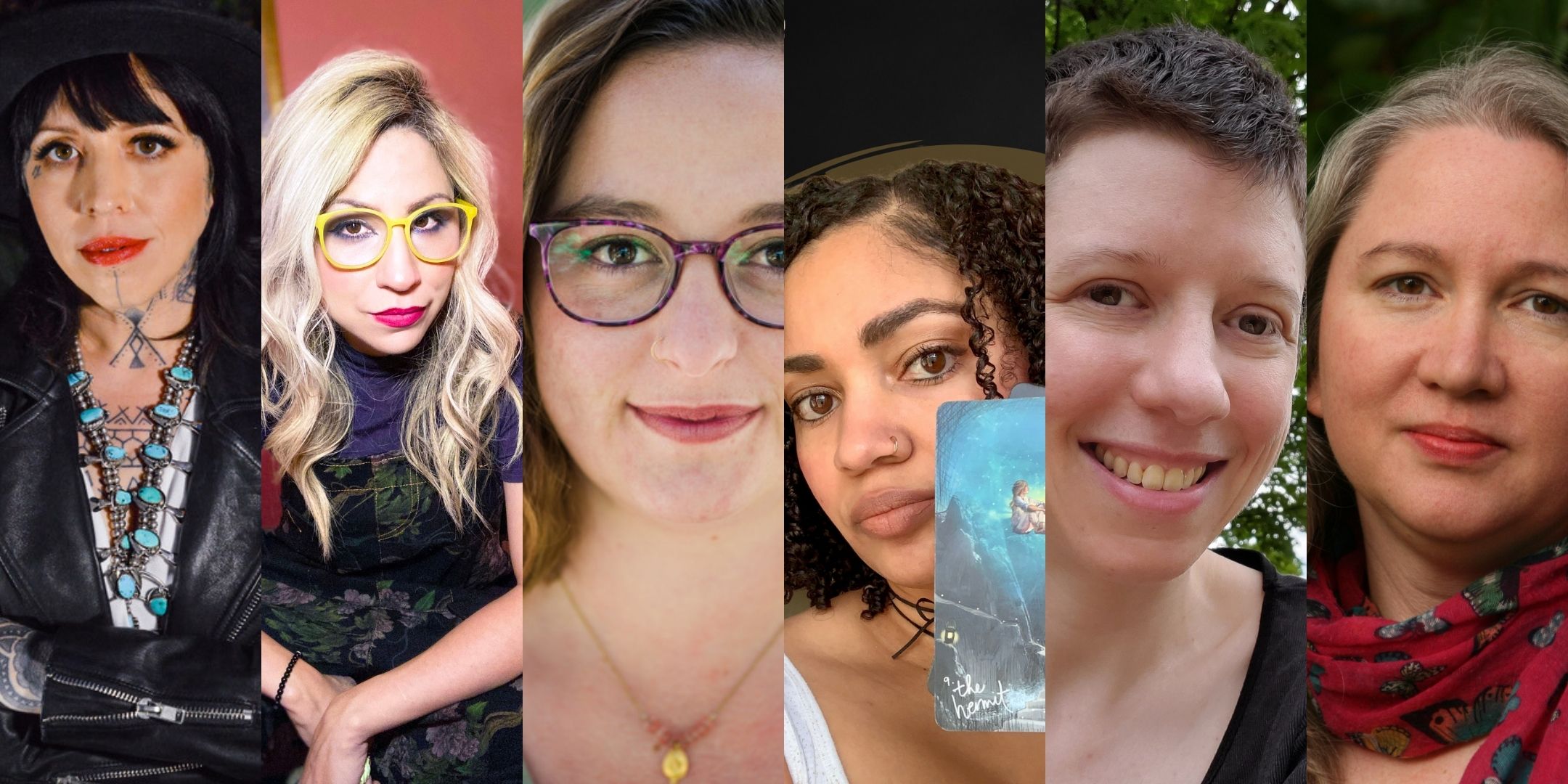 Lucy Pearce
Lucy H. Pearce is driven by a need to create, connect and inspire. A best-selling author, vibrant artist, respected publisher and editor, her work focuses on self-knowledge and healing through creativity, archetypes and cyclical living. She gives voice to the soul: the spiritual, the liminal, the darkness and discomfort and the magical in the midst of the mundane. Often described as raw, authentic and life-changing, her work encourages authentic paths to self-expression and is celebrated particularly by highly sensitive and neurodivergent women.
She is drawn to connecting with the seasons of the soul and world through her books, painting, digital art making, clay work, photography and seasonal spirals – made of pebbles, seaweed, leaves and more. She is ever drawn back to the circle and spiral and in her personal practice she loves circle dance, women's ritual, sacred space and music.
Her award-winning books include: Burning Woman; Creatrix – she who makes; Moon Time; Medicine Woman and her most recent, She of the Sea. Lucy is the founder and creative director of Womancraft Publishing, established in 2014, which publishes life-changing, paradigm-shifting books by women, for women. She is the mother of three and lives on the south coast of Ireland.
Marcella Kroll
Marcella Kroll is an artist, consultant, teacher, and published writer. As a contributing writer for Taschen, her most recent work, "The Oracle Divine," can be found in Taschen's, "Tarot. The Library of Esoterica." She is the creator and illustrator of The Dreamers Tarot, Sacred Symbols Oracle, Nature-Nurture Oracle, Cutting the Cord Zine, and PRIESTESS – A Magical Grimoire.
Embracing her multidimensional and diverse ancestral bloodlines, Marcella offers a safe container for those ready to explore the liminal and do the deep work. Her spiritual guidance and consultations provide insight, clarity, and healing on core levels to her clients and students.
She is a notable public speaker on Divination and Magic for podcasts and panels worldwide, including the Lucas Museum of Narrative Art. Her original art resides in the permanent collection of the prestigious, Rhode Island School of Design Museum. As an artist and consultant, Marcella has contributed to the continuity and development of characters for the Film and Television Industry and even in the VR Gaming world. As well being a Program Presenter for the Los Angeles Public Library, teaching Tarot for Teens and Tweens.
You can view Marcella's latest contributions to the Television Industry on HBO Max's, "Search Party", Season 5, with the season airing January 7th, 2022, where you'll see new additions to her The Dream's Tarot Deck, comprised of two specially created cards just for the show. The custom creations have inspired Marcella to create a brand-new deck, "The Roast Iconic Oracle Deck," which was released in January 2022.
Sarah Sellman
http://www.sarahsellman.com https://thirdspacecollective.org/
Sarah is a queer, neurodivergent writer + filmmaker who uses genre narratives to explore the role of myth in distorting and healing personal and generational trauma. Born and raised in the agricultural community of Alamosa, Colorado, known for its connection to the paranormal, Sarah studied Film/TV, Ancient Religion and Neuroscience at NYU. She is a founding member of Third Space artist collective, and a professional tarot reader.
Apuksɨkn Lynx (she/they)
Amanda Amour Lynx (she/they) is a queer, neurodivergent, Two Spirit, urban mixed Mi'kmaw interdisciplinary artist and facilitator currently living in Guelph, Ontario. Lynx was born and grew up in Tiohtià:ke (Montreal) and is a member of Wagmatcook FN. Their spirit name is Jilaptoq, The one who leaves footprints.
Lynx is a practicing western (modern + hellenistic) intuitive astrologer, tarot reader and energy worker. They are passionate about incorporating Mi'kmaw worldview and Indigenous star knowledges into these disciplines.
Lynx received a BFA from OCAD University in Drawing and Painting, minoring in Indigenous Visual Culture (2018), and a Social Services Worker Diploma from Humber College (2017).
Their art making is a hybridity of traditional l'nuk approaches with new media and digital arts, guided by the Mi'kmaq principles netukulimk (reciprocity) and etuaptmumk (two-eyed seeing), Lynx's artistic practice discusses land and relationality, environmental issues, navigating systems and societal structures, sexuality, cultural and gender identity, Indigenous (L'nui'smk) language resurgence, quantum and spiritual multiplicities.
They build community spaces of sharing, lateral love and kindness, committed to creating healthy futurities combining traditional knowledges, art-making, crafting, exploring social identity, pride and designing intentional space for reconnecting kin who feel unsure in conventional environments.
Amour-Lynx's most recent project (2021) includes developing, launching and facilitating a 13-week program for Two Spirit and LGBT+ youth at Canadian Roots Exchange. Virtual Beginner Two Spirit Regalia Making Program allows youth 18-29 across Turtle Island to receive access to genderfluid ceremonial teachings, pow wow culture and beginner skills in developing and ideating their own dance and spiritual regalia items. Their most recent curatorial work includes Shapeshifters at Beaver Hall Gallery (Toronto) as part of the annual Bi+ Arts Festival, showcasing the art and experiences of bisexual and queer artists, their 2019 iteration highlighting Two Spirit identity. Their writing was published as part of grunt gallery's Together Apart anthology (2020), and revue esse (2020). Lynx also worked as program assistant at Xpace Cultural Centre, a cultural programming hub serving emerging artists (Toronto) from 2016-2018. Their artwork has been featured in gallery spaces, billboards and publications nationally.
Julie Nowak
Julie Nowak (M.Ed.) is an educator, activist, consultant, and soon-to-be podcaster based near Tkaronto (known as Toronto, Canada). With a background in education, community development, public health, and the food justice movement, she founded "The Seasonal Body" – a project exploring the intersection of disability justice, nature connection, body liberation, and food justice. This focus stems from her personal experience of living as a disabled person with multiple chronic illnesses after traumatic brain injury, as well as finding healing from disordered eating through therapeutic farming. Julie is also passionate about linguistics and language justice, and can optionally provide her work in English, French, and Spanish. You can follow her at SeasonalBody.org, or on social media: @SeasonalBody on Facebook and Twitter, and @TheSeasonalBody on Instagram.
Brandi Spradling
https://www.instagram.com/venusinretrotarot/
http://www.youtube.com/c/VenusInRetroTarot/
Brandi (she/her/they) is a tarot reader, teacher, intuitive astrologer and eclectic witch. As a black, queer, neurodivergent, disabled woman, safety and inclusivity are essential to her practice and offerings. She blends multiple forms of divination to provide unique insight to the collective and when working with individual clients.
Brandi embraces her autism and ADHD diagnoses as superpowers— allowing her to make connections that go beneath the surface of traditional divinatory meanings. She loves showing others how to do the same in their own spiritual practice with a mix of practical advice and occult knowledge. Brandi takes great pride in her ability to be a safe container for others to show up in all of their vulnerabilities and do deep soul work that leads them to their authentic truth.
Brandi has a YouTube Channel where she releases weekly content that provides inclusive tarot content using systems that she continues to develop and refine. Her aim is to create the tarot content that she couldn't find, but wanted to see on YouTube when she first awakened. If she was searching for tarot content that focused on more than love and money, then others must be, too. She releases monthly collective tarot readings, monthly sign-based readings that focus on specific areas of growth, pick-a-card readings based on topics like mental health, grief, self-love, and social justice work.
Brandi has two forthcoming projects to look out for— a visual reboot of her podcast Venus In Retrocast (coming to YouTube), and a Kickstarter for The Tarot Spread Deck.
Venus In Retrocast is a tarot podcast where Brandi teaches listeners + viewers how to make connections between tarot cards using astrology. By looking at a tarot card's rulership and the cards related, it gives much deeper insight into what messages the tarot may be trying to send. It's a whole new way of learning tarot— a completely free course in podcast form.
The Tarot Spread Deck is an oracle deck that allows anyone to mix and match questions to make their own tarot spreads. The possibilities are endless. Pull a card for a daily draw question, lay out cards for specific questions you want to ask, or shuffle the cards and let the deck decide. It's a choose-your-own-adventure for tarot readings. The Kickstarter is forthcoming by summer 2022.
Brandi has also been a guest on "Between the Worlds Podcast" Episode 32, where she talks about the 4 of Swords. Part lesson, part personal story, and a meditation on the importance of rest in getting back to Self.
14:02:06 Welcome guys.
14:02:12 Welcome.
14:02:12 Welcome. So many wise friends.
14:02:18 It is such a pleasure to see you here today.
14:02:33 I'm going to take a big shoulder roll and deep breath and just feel so happy as I see your faces appearing. I just feel electrified fires files, and your expectation, and your hopefulness, and your decision just to be here.
14:03:04 So, I'm Risa.
14:03:25 it's Ostara, or it will be by the time we share this conversation. So we are planning a seed together. And for this is Sarah, myself, and Amy, who are co authors.
14:03:48 The book Missing Witches and co hosts in the missing witches podcast.
14:03:48 We want to open a circle.
14:03:52 That is about new ways of imagining the possible.
14:04:04 We think that that is what we're here to do.
14:04:08 Part of what draws us to the word witch is this sense of the unpredictable. And this belief that we can cast a spell, make a change in can't for something new that it's worth believing that the world can change.
14:04:26 And part of what we go looking for missing witches is stories that have been excluded because it's like a work of speculative fiction we're asking, What can the world be like, if we find the stories that were collected are marginalized.
14:04:44 What can that world be really, you know, it's about having faith, I think that the world can be, other than it is in its extreme, and justice.
14:04:59 So often, that we come together to believe that it can be different, and that by coming together we make it different.
14:05:05 And we see you as leaders for us in that.
14:05:11 The thinkers that we've invited here today, and in part that's because of the way that they draw on their narrow divergence to offer what they see and how they see as a gift to the rest of us.
14:05:26 And they'll be better able to speak about that, then I will, but that's the context for today.
14:05:32 And I want to open with a small ritual.
14:05:35 And then, Amy.
14:05:49 So,
14:05:53 I'm going to begin by inviting you to
14:05:58 be as comfortable as you can be.
14:06:02 The body that you're in the space that you're in the systems of systemic racism and injustice. capitalism constant crushing fears.
14:06:17 Let's not deny that those things impede on our comfort.
14:06:24 But to find them this moment, whatever ease is possible to you. We invite you to lie down turn off your camera come close to the camera fidget.
14:06:35 Do whatever makes sense in your body, the sway a little bit if that feels good for you.
14:06:43 And then this is available to you and comfortable to consider removing the mask, gently touch your face, if that feels good to you, the muscles of your face and wipe away.
14:07:04 In all those tiny ways we hold our face.
14:07:09 Whatever you've been feeling you've had to haul to make a man.
14:07:14 This is a space where we invite you to drop your masks and be with us as the wild magic strange flickering lifelong I'm that you are.
14:07:26 And if there are other comfort gestures that you enjoy.
14:07:31 Touch your hand rub your head.
14:07:39 Smell the inside of your elbow. Let it down.
14:07:44 We also invite you, if you are going to speak in this circle, or, introduce yourself in the chat or share in any way to feel comfortable doing so in a way that's natural to you.
14:08:01 If it feels good to apologize, then apologize but don't feel like you need to so if you go off on a tangent, if you lose your train of thought. If you start something and end up somewhere different, those are things I think we feel so much pressure to
14:08:16 apologize for, but maybe that's part of being kept in in linear time right and so this is an opening where I hope you feel comfortable to spiral and stumble and open up questions, go quiet.
14:08:30 Ask us all to be quiet for a second if it feels too hectic. This is a kind of a space okay, that's my opening.
14:08:39 Welcome to the circle today.
14:08:45 Thank you so much for that ritual of unmasking I think that part of the pressure of capitalism is to fit into the norm, and we as Witches of all variety of the one thing that we are comfortable with is being different.
14:09:05 I will describe myself. My name is Amy, I have long gray hair. I'm a white woman in her 40s.
14:09:11 And I'm proudly wearing my T shirt today that says stay weird. And I just want to give a big open and loving space to all of our differences, and to conjure the spirit of Audrey Lord, who knew that differences are advantageous, when we work together.
14:09:30 That's the only way that we can make a full picture of our humanity is when we all come together like we're doing today.
14:09:40 So I wanted to read something that Risa wrote. So it was a joy to read to each other and to have our work read to us by each other.
14:09:48 This is from our book missing witches recovering true histories of feminist magic. Thank you all again so much for being here.
14:09:56 It is a star, star.
14:10:00 It is the spring equinox, dark and light reach another point of balance on the spinning wheel light is increasing quickly, and the darkness will recede, but for this moment, they breathe together.
14:10:21 This is the ancient goddess holiday that gives us bunnies and baby chicks.
14:10:26 This is the pagan story overwritten by the peace loving anarchist hippie Jesus is execution descent, and return.
14:10:36 In honor of the beginning of spring, we can ritualized an opening for new ideas and new ways of thinking on the spring equinox, day and night, are equal, our shadows, personal and collective look us in the eye, and they can heal and guide us.
14:11:18 that we would love to invite our panelists our guests are wise to one by one. Introduce yourselves, share a bit about your projects, what you've been working on what you've been thinking about, and then share your question, and then we'll play it daisy
14:11:27 chain style will have you call on the next person so we can sort of step back and let you all stop to the forefront and just start, I'll invite a collaborator, and coven mate who has been helping us improve our own approach to accessibility in a way that
14:11:46 has felt really gentle and encouraging, and a way that made space for both of us to do it in, and not feel guilt or shame or rush or capitalist pressure, I will share this with you from Julie's signature, and then invite her to introduce herself Julie's
14:12:10 recently added to her email signature.
14:12:13 After it says you know Julie no masters of education she they pronouns educator activists writer consultant founder the seasonal body. I reject the ablest urgency model of our culture, and do not apologize for disability related absences response times.
14:12:31 Thanks, Julie. Thanks for being here.
14:12:36 Thank you for having me. I'm so happy to be here.
14:12:42 So, as Lisa said my name is Julie know whack, I use, she her or they down, they them pronouns. I live near Toronto, which is the indigenous name for what we colloquially call Toronto in Canada to describe what I look like I'm a white person with relatively
14:13:02 short brown hair. I'm wearing a black top and bread headset touching it probably made noise.
14:13:12 And I'm in front of the blue wall, and I am a, an activist and an educator and consultant doing work around. Disability Justice and body liberation and nature connection and food justice, through a project I started called seasonal body.
14:13:35 I came to this impart based on my own experience of finding healing in relation to eating disorders through farming and connecting with nature, and now a lot of my work is focused on making the connections between Disability Justice and nature as well.
14:13:56 In the spirit of challenging capitalism. I want to name aspects of my life that are separate from productivity, because I'm trying to decouple that that's where my worth is.
14:14:09 And so, the majority of my time as a chronically ill person is spent resting and taking care of myself and my main form of income is social assistance, which I named because I wanted to stigmatize that and say that many disabled and chronically ill folks,
14:14:28 our income is from socialist distance. And I want us all to work on getting us to get more money from socialist systems because it's not enough to live on.
14:14:39 So, wherever you are like me in Canada or in the US, the system and the bureaucracy of that sucks and so a lot of my time goes to navigating the system to be honest, and that being said, I'm very passionate about some of my creative projects.
14:14:57 I'm currently, creating a podcast that is trying to make nature connection more accessible to folks who are homebound, like me, so I'm creating experiential nature connection activities that can kind of be like Ico therapy from wherever you are, and I
14:15:17 just launched a Patreon. If anyone wants to help kickstart that, but I know there are many here who have Patreon so I encourage you to support them all.
14:15:27 And my question for this group I have a lot of questions, but the one I will bring to the space is asking us how we can collectively make our spiritual spaces, more accessible and welcoming to Nero divergence boat nerd near divergent folks on a practical
14:15:47 level on an ideological level, all that so that's where I will go with that. And Next I will pass this to Brandi.
14:16:03 Thank you so much Julie and thank you everyone for having me here. It's such an honor.
14:16:09 My name is Brandy, and I am a black woman. I have medium brown skin, I have black curly hair.
14:16:20 I'm currently wearing a purple top and a black choker black nose ring, and I have a moon tapestry in the background that has purple moons on it, so I'm cancer rising and the moon really called to me.
14:16:36 So,
14:16:42 yeah, I am ADHD So, where do I
14:16:47 do you want to share some of your projects, and then I'm your question.
14:16:52 Okay, um, some of the projects that I'm currently working on. I do have a presence on Instagram. But I am kind of migrating more towards YouTube because I love to make long form content.
14:17:08 So I'm doing collective monthly readings, as well as readings for all of the signs so for your sun, moon and rising but I do more of soul Taro rather than predictive Taro, my lineage comes from Taro for the wild soul with Lindsay Mac, if you've heard
14:17:29 of her as so I really resonate with that type of Taro because her.
14:17:37 Her motto about the taro is that if it doesn't include everyone, it doesn't include anyone, so that level of inclusive it really spoke to me, because when I started looking at Taro videos and really got into astrology.
14:17:55 There wasn't a lot out there that made space for marginalized identities that there were some things that really felt like they left out people who looked like me or had the lifestyle that I have, like, I am a chronically disabled person chronically ill
14:18:18 person. I also am a person who I am autistic, and I have ADHD.
14:18:26 I am recovering from birth trauma and depression, constantly working on that. So, you know, to hear this person is an energy vampire or, you know, many of the other terms that you hear in the Tarot space that's on YouTube, really did not make me feel
14:18:47 welcome so I'm creating this space that I would have wanted to see.
14:18:53 And part of that is, I really love astrology I'm an intuitive astrologer. I'm still a student of Hellenistic and modern astrology. So, um, I incorporate astrology into my Taro practice, and I am rebooting, a podcast that I started last year called Venus
14:19:13 in retro cast. So it's all about making connections between the cards using the astrological rulership, and I'm really excited to do this in a visual way on my YouTube.
14:19:27 I kind of think of it as my lemonade from, you know, bounces visual album, because as a neuro divergent person. I'm very visual so doing it in a space that was completely
14:19:45 audio based, it really didn't it created some barriers for me so I was like why not work it in a way that works for me so.
14:19:54 And another project that I have coming up is that I made my own Tarot spread question deck so I am going to be putting that Kickstarter out this summer.
14:20:05 And then, just like Julie said, I'm outside of the capitalist system. I am on disability and I have been for since 2012.
14:20:17 So, really feeling that you know that resonance with what she said about how in unjust the disability system is for people who need that assistance to live, because if I wasn't married, you know, if I didn't have a husband who earned income, my life would
14:20:43 look very different than it does and I feel very fortunate for that but at the same time.
14:20:49 I feel like I should be able to support myself, no matter what. And that should be for everyone. Everyone should have a basic standard of living. So I'm a big believer in that.
14:21:01 And divesting from capitalism. So, yeah, and the question that I posed, you look at it was one of what was one of the biggest barriers for you in deepening your practice or entering into any kind of practice around witchcraft Taro, any spiritual practice
14:21:24 and then what traditional rules Did you find unnecessary or a way of keeping neuro divergent people out of this space, and then what advice can you give to anyone who is new.
14:21:38 That feels caught in this dynamic. So, thank you for allowing me to share. and I will pass this on to Sarah.
14:21:51 Hi.
14:21:53 I'm Sarah, I'm coming to y'all from Denver, Colorado. Usually I'm in LA on unseeded Tanga land, and I just described what I look like I'm a white person with brown hair and glasses and wearing earrings that are made of dead Beatles, and I'm in my grandmother's
14:22:10 office, surrounded by her Angel figurines and her sticky notes and I let the group know this but my grandmother passed a couple days ago I'm actually in Denver attending.
14:22:20 Her Shiva slash week which has been calling a suite, which I think is hilarious.
14:22:27 And I yeah I'm really thrilled to be here, thank you so much for having me, and in creating a panel of these kinds of voices.
14:22:37 My current projects.
14:22:38 So, I am actually by professional screenwriter and director in Hollywood. That's why I live in LA.
14:22:45 I love that work, and also I think it kind of lacks a certain degree of depth in the spiritual realms and so I have really found a home for myself in my spiritual practice and in the spiritual communities that exist in LA.
14:23:03 I am a professional tarot reader as well. I've been doing Taro since I was like a 12 year old, to, to, you know, for better or for worse I had some pretty challenging experiences with the taro as a teenager, and very eye opening experiences, and it's
14:23:19 Tara has become something I trust.
14:23:22 Like, like a very good friend and my projects right now that are kind of in that space include a book about the taro that I'm writing but it's more through the lens of using Taro for creative practice.
14:23:36 Also interrogating gender within the taro, and the binaries of magic in general and coming to it from like a pretty non dual perspective, as well as engaging Chinese questions around neuro diversity so my identifies neuro queer, my relationship to that
14:23:57 comes through being having a multi layered experience around neuro divergence, that has, you know, and having some resistance also to the labels and the idea of the DSM in general is something crafted by white men to other people so I want to engage that
14:24:19 will also recognizing the value of finding community and finding labels that help us connect to each other.
14:24:27 But I have a few types of neuro divergence and I think the one that feels the most engaged right now is my synesthesia which I have two kinds of in now in this exact moment and having some pretty visceral experiences which is very interesting.
14:24:42 And yeah, and also I have ADHD and I'm highly sensitive person and I also on the autism spectrum so there's a whole range of interacting identities, and I've been delighting and understanding how those things connect to each other and mapping them out
14:25:00 and my experience, And the questions that I brought for the group are are pretty, they're pretty surface level but they feel really crucial to me in sort of understanding the link between euro divergence and magic so my question is wondering if there
14:25:16 is a historical or potentially past life link between these two ideas and an are these different ways of being in seeing and doing coming from the nerds like it was a chicken and egg situation where did these begin and where they end, I've been also really
14:25:35 thinking about the idea of wounded gift and I think every aspect of our gift is also seated in some way as a wound, and I really see for myself and this is just speaking to my own experience that minor divergence feels that way like the hypervigilance
14:25:52 I have around other people has led me to be as a fellow cancer rising, a very empathetic engaged tarot reader. And also, it creates an enormous amount of anxiety and stress in my own body and so there's just a really interesting conversation I think to
14:26:08 be had for how these things, emerge and, and the huge overlap like almost everybody I know who is near divergent is also a witch or somehow connected to the magic community so.
14:26:20 All right, that's me.
14:26:23 I will popcorn, this over to link slash Amanda who I haven't gotten a chance to meet yet.
14:26:32 Hi.
14:26:36 Grey Medallia will do
14:27:00 I just introduced myself Firstly, as an attempt language revitalization and reclaiming indigenous space, it's something that's really new to me.
14:27:13 But I just said, my name is links or Amanda.
14:27:19 My spirit name is gelato.
14:27:21 Which means the one who leaves footprints.
14:27:27 and my indigenous ties are to own a muggy, particularly what my cook First Nation and Nyanza area.
14:27:45 I'm an urban mixed make more person who identifies this to spirit and queer. I'm currently living in wealth but was born and raised in Montreal, Quebec.
14:27:53 And I use the word bonus coaches, make my word for which and it also kind of aligns with new terminology that's used for to spirit folk which is really interesting like derivation and etymology.
14:28:13 So.
14:28:13 Some people claim that some people use other words to describe themselves.
14:28:18 She they are negative pronouns Nigam this listen killer they word and make a magma which is really nice.
14:28:28 In terms of a physical description of myself, I'm light skinned indigenous person with died blond hair.
14:28:39 I guess like yellow rimmed glasses wearing a black turtleneck pink top over top of it and eat it bolo tie made by an indigenous friend of mine. And I'm sitting in an office with a couple of like a door behind me and cat toys and stuff.
14:29:07 In terms of me and what I do a little bit of a multi hyphen it.
14:29:15 Practicing astrologer uses intuitive, mostly but borrows from modern and Hellenistic and is trying to find ways to like, bring indigenous star knowledge is back to that Taplin Taro and energy work, but most of the time work as a visual artist and facilitator,
14:29:36 some of the recent things that I've been working on have been creating and designing spaces for. Two Spirit youth virtually during the pandemic to ID aid and think about a gender fluid regalia dance style which is something that kind of intersects with
14:30:02 multiple identities but approaches colonialism in the ways that people are often ostracized from accessing ceremony.
14:30:15 Yeah, just making stuff.
14:30:19 In terms of neuro divergence it's a really new thing that I've attached to my identity and is unraveling and being lost back into myself.
14:30:35 In terms of that.
14:30:39 I live with ADHD and autism level one.
14:30:46 Was it questions that we asked. Also I'm a cancer rising to so it's a full house of us, which is kind of needed
14:30:58 going before you pass the mic, Amanda. Can you can you repeat that word that you use in lieu of which, and maybe spell it. Even I had never heard it before so I'm really excited to dig into this.
14:31:17 If I can spell it. Yeah, it's a.
14:31:24 And the chat. PUOIN Apostrophe S kW.
14:31:31 So the P sounds kinda like a be a boat when this.
14:31:39 Yeah.
14:31:42 Thank you so much to, would you also share your questions before you do the chain so I sure.
14:31:51 Some are divergent gifts and special skills include enhance perception and pattern recognition. Is this true for you. In what ways does it influence your magical practice experience anesthesia.
14:32:06 What is your opinion on people using terms like Indigo children, or HSP highly sensitive person as a neuro divergent which. In what ways have these terms been stigmatizing for nerd divergent and autistic people and witches and the DSM has been highly
14:32:27 problematic for people on the spectrum, as well as those who identify with mental health diagnosis. At one point, autism was only characterized under schizophrenia Aspergers system, sorry, Asperger's Syndrome, was coined by Hans Asperger who was a eugenicist.
14:32:48 What are some reflections you have on the neuro divergent spectrum which you categorize these disorders.
14:32:57 On quotes differently if you could rewrite the DSM, and how narrow divergence is perceived as a whole cluster of questions but I hope it kind of brings discussion to it.
14:33:14 Well I'll
14:33:17 pass the mic over to Marcella.
14:33:24 Thank you. Hi, My name is Marcella I pronounce are she, her.
14:33:30 I am currently Pavelka. The Tanga spiritual center, also known as a Long Beach, California. But I am from the east coast. Originally, I am a autistic multiracial person, I, I am really finding as an older.
14:34:02 I hate even saying elder which I'm going to be 45 on March 20.
14:34:10 And I've been doing this a very long time.
14:34:13 And I'm still finding my footing on how to talk publicly
14:34:20 for visuals in inclusive inclusively I am wearing I call it my emotional support hoodie. It's a beat up, black hoodie, with a Bad Brains patch on it, and I were often because it's very comfortable and feels good on my body.
14:34:39 I'm pale in complexion, but all of tone I have a lot of ancestral tattoos that I have been working into my body over the years as I reclaim, and connect back to my roots.
14:35:00 And my multi racial and cultural diversity.
14:35:03 I'm wearing want them shell to connect to my Wampanoag relatives and ancestors.
14:35:11 And, yeah, I'm in my little office area.
14:35:19 When I was asked to do this. I was really grateful. There are not many places to speak on neuro diversity and there are more and more of us coming forward or at least being more visible.
14:35:33 I did not receive a diagnosis, until 2019 and I'm also like a firm believer in self diagnosis, as a key to finding your path.
14:35:47 There are multiple things that I've been working on I've been a full time reader, since 2009 and offering Taro introductory classes for teens and tweens through the Los Angeles Public Library.
14:36:03 And I've been reading cards since 1995.
14:36:07 I am a very vocal recovering addict alcoholic and magic and witchcraft have definitely helped me find my way in my discovery of self, when I did not have anyone to talk to.
14:36:24 Growing up in Rhode Island.
14:36:29 And over in only in the last four years I did find out that that I come from, not just on my mother's side that, but my father's side there's a lot of magical wounded people, and institutionalized women, including my grandmother and my great grandmother
14:36:47 who were seniors, and.
14:36:52 So a lot of my work I realized at this point is about creating healing spaces for those who reside in the liminal.
14:37:01 I've also had multiple near death experiences. I don't feel like I fit in anywhere.
14:37:09 And I've felt like that my whole life, and I still feel like that, even in places that welcome me
14:37:17 because I'm so in and out of, I guess, the physical world and even my own body, a lot of the time.
14:37:39 So, I create decks, and a lot of them, and I create like classes or books and things that I've been working on.
14:37:39 Mainly as an artist first, and a sensitive person or empathic and intuitive psychic.
14:37:46 Second, and I feel like when I can create artistically, it's the way that I can make the, the energy physical.
14:37:58 And again, I really think that part of my path in this current life is to create spaces, spiritually, for those who come from
14:38:11 oppressed lineages or people who have their culture stolen or taken or had to hide from it. I create spaces for them to connect back to it. And I'd like to create more of a reference for that because as a multi racial person.
14:38:30 It's not been a place that I feel like I have the kind of connection, right, or I don't know if that's proper way of saying it but like, it's hard for me to go into spaces and feel like not an imposter or like I'm overstepping.
14:38:47 So, how do we create these spaces where you can reconnect and honor your lineages your bloodlines and your own neuro diversity in ways that are respectful and honor those who came before but also honor the autonomy of who you are and where you were headed
14:39:04 to best support you on your path.
14:39:07 And my question was very much like the similar the start of this is how can we unmask in our magic, and more, you know, which ways can we unmask more in our magic and allow ourselves to be.
14:39:28 And I found that through performance ritual that's really helped me.
14:39:32 Even though like have not been able to do that and some time since the current pandemic but, yeah, I think.
14:39:41 Thank you. I like to say thank you, and in some of the languages that I'm reconnecting to.
14:39:48 So I like to say grassy that's Italian open a garden in Portuguese sublimate Filipino till gala and push up attach. And I'm still trying to find a Wampanoag teacher.
14:40:06 To learn how to speak more want to knock think.
14:40:10 And I'm going to daisy chain it to Lucy.
14:40:16 Hello.
14:40:21 My name is Lucy Pierce, and I am based in Ireland and Anglo Irish living on the south coast of Ireland, the Celtic sea.
14:40:36 I am sat here with my tabby cat on my chest, who's helping me to feel a little calmer.
14:40:47 I've got medium length, but half gray half dark hair, I'm in my mid 40s.
14:40:58 And I got pink glasses and my very, very soft, cozy comforting.
14:41:07 Butterfly scarf which I wrap myself in for interviews, so I don't feel so scared.
14:41:16 And so, I am a mother of three, and I am the founder of women craft publishing, which publishes a life changing paradigm shifting books by women for women, and I am an author of a ridiculous sounding 10 books.
14:41:37 I am prolific in my creativity, I'm a visual artist.
14:41:43 I'm currently illustrating a new one of our books, which.
14:41:50 Excuse me, I've had covered for the last week. So, I haven't done much talking and sound a bit Chester the normal.
14:41:57 So I've been in bed, not able to do much, but drawing for about six or seven hours a day, illustrating the kitchen which companion book that we are putting together.
14:42:12 And we've just launched the kitchen which the first kitchen which book.
14:42:18 So it's really exciting to be able to do something from bed and bed is where I do most of my work from.
14:42:27 I'm late diagnosed autistic and ADHD.
14:42:31 Lot of chronic health stuff, which I wrote about in my book medicine woman.
14:42:39 A lot of chronic health stuff, which I wrote about in my book medicine woman. And what else.
14:42:45 I really enjoy working like people kind of refer to me and in my head I kind of think I should refer to myself as an author because that's what I've done the most dog I've written, you know, almost a million words.
14:42:59 In the last decade and in book form but actually word and image the intersection between words and images is where it is for me.
14:43:11 That kind of magic space where ideas take form, and sometimes they come through words and sometimes they come through images and sometimes they require both, and that's that's what what I love to work with most.
14:43:26 And my question is, how can we learn to work together. When working together is so tricky and challenging for us when we endure divergent.
14:43:42 I don't think I have to pass it on to anybody but I might be wrong. No You're, you're Excellent.
14:43:49 Thank you everyone so much for opening up in such thoughtful ways.
14:43:55 When we ask guests to introduce themselves I think that's always what Amy and I are hoping for is like take us deep into the emotional world of your project x let us see it from that.
14:44:07 That place that you all just share that from so that was incredibly generous and we thank you for that.
14:44:13 And I didn't describe myself at the beginning, I get really flustered when I do these things I'm going to do it now.
14:44:21 I am a early 40s white woman with messy brown hair and brown sweater.
14:44:28 And I podcast from my partners and my studio so there's a lot of leather working behind me.
14:44:37 And I have multiple brands and my hair because my kid did my hair before today.
14:44:44 And that felt good to do Julie suggested we do that.
14:44:49 As part of our ongoing kind of reaching outward, and it shows really nice, and I want to just open it at this point, and I hope you'll allow it. Amy's, tennis, the generosity of putting all of the questions in the chat.
14:45:06 So, panelists, if there was something that was asked that you felt fired up about, are you wanted to add your thoughts on.
14:45:16 Just go for it. I'm going to as a non panelist, take it and take it away, Amy, because I'm really interested in in Brandis question about what barriers or gate keeping you have found as an MD person.
14:45:36 And if you can describe those to us so that we can be conscious. In our goings on that we're not we're not replicating these things so maybe we'll, We'll start with brandy since it was your question.
14:45:54 Sorry I was trying to unmute. Okay. Um, one of the biggest things, especially in Taro was especially thinking as a neuro divergent person, sometimes we can be very literal or at least speaking for myself.
14:46:20 Like when it comes to roles, I'm a Capricorn moon, and we follow real simple things like you have to be gifted your first tarot deck, you know, you could be waiting forever.
14:46:27 If you come from a traditional family that doesn't believe in, you know, Taro and thinks it's work of the devil.
14:46:38 Through that shit out of it and buy your own deck, you know, I don't think I would have ever gotten started if I had to wait for someone to give me my own deck.
14:46:52 And then the ways that, especially if we're looking at that, economy, you know you need this crystal or you need this ingredient to make your spell work, or you have to really set your intention and focus.
14:47:10 Well, what does that mean if your ADHD and your mind is going here there and everywhere and you're trying to cast.
14:47:21 You know, there have to be workarounds around that and actually I posted on Instagram for anybody. You know, neuro divergent or not. If you can't hold your Taro question or your intention in your head, write it down on a piece of paper, it will hold the
14:47:40 space for you. And I find that it works all the time, you know, and that was one of the biggest reasons that I created my spread deck.
14:47:50 I thought it was interesting because sometimes we don't know what to ask or, we would just, you know, I think it's interesting to let feet decide, but it's a nice space holder for you to have this question right there.
14:48:06 And then you shuffle the cards and see what comes out but you don't have to sit there and worry about, oh my mind is wondering, the cards aren't going to show up with the answers that I need, because I'm thinking about something else, you know, so, so
14:48:22 many things like that, I think, you know, that's the wonderful thing about so many neuro divergent practitioners and witches and Terrell readers coming forward is that we're filling that need for other people who are seeking.
14:48:38 What, what it is that we couldn't find you know it's like need is the mother of all invention. And I just, you know, I'm so thankful for other voices that I've found you know on social media, who really gave me the license to kind of throw some of those
14:48:58 things away and you know just kind of create a practice that works for me, and I'm still learning it's it's a journey but yeah I can see where, you know, if you have a certain, you know, if you're brand new, and you have a certain idea of the way things
14:49:18 are supposed to be based on tradition, or what you've read in a book, it can really frustrate you know it. Frustrated person into not even wanting to start in that something that really makes me sad and upset because I think it keeps a lot of people out.
14:49:40 That really should and have a right to be here.
14:49:46 So that's, that's the answer.
14:49:56 Does anyone else want to speak to this question.
14:50:03 Sure, I will. This is Julie speaking.
14:50:07 I think what comes most, to my mind is.
14:50:12 So my near divergent comes from traumatic brain injury.
14:50:17 And it has affected my ability to be concise.
14:50:23 And I, it feels like I'm in some spaces.
14:50:30 Yeah, this whole concept of taking up space is
14:50:37 the sticky thing, the sticky thing for me. And so I have found that as a barrier for yeah some more spiritual type spaces where I feel like I have to be so guarded and careful with my words.
14:50:55 Or else, you know I'm concerned I'll be peers perceived in a, in a particular way and people even sometimes make comments about that as well. So, yeah.
14:51:18 Hi, Sarah. Hi, I am finding myself called to speak to the sort of flip side of that. And while simultaneously acknowledging Of course, everything that was shared feels very real and very true to me.
14:51:32 And also realizing that for me in some ways, accessing magical spaces was the first time I felt like I could communicate things in the I don't have an inner monologue I don't think in words I think in pictures.
14:51:46 And so all of my life is translation, and sometimes triple translation and and being in a magical space being an interior space was sort of the first time I, and maybe this is a choice I made but gave myself permission to say this is the image that's
14:52:00 coming up for me when you say that or, this is how I'm processing this as an abstract concept.
14:52:06 And I found that permission was really necessary and beautiful and also feels very specific to magical spaces, but has allowed me to then bring that into non magical spaces as well.
14:52:22 I think that's maybe the only thing that I wanted to share but I was really feeling called to express the permission. I mean, there's, there's always both because that's unfortunately the society that we live in, but the permission felt really crucial
14:52:35 to.
14:52:47 So I'm interested in where that takes us in terms of Julie's other question.
14:52:57 What can the divergent folks teach spiritual communities and the world.
14:53:05 Marsala doing this speak to that.
14:53:10 I'm reading the questions, because I feel like there's like a couple of. There's a lot. Yeah, I'm.
14:53:20 And
14:53:25 as someone who there's like, there's so many things I want to pull on from all of these questions, and, you know,
14:53:35 being artistic and being a reader and, you know, kind of, making sure that we
14:53:46 give ourselves, I just speaking from the readers perspective or the person holding the space for others, giving ourselves, the, the space and time to process things without feeling a rush, or an urgency to fix or, you know, and have a concrete answer
14:54:06 is so important. And it allows us to find nuance in in how we're deciphering we're delivering a message I think there is a lot of urgency sometimes in the sense of, we have to call the call to action we have to have an answer and sometimes we don't have
14:54:26 answers, or we need space, just for my own experience like I I don't do events anymore really I can't, and I haven't in a while because they become like system overload for me personally and it's like I either I'm getting way too much information or and
14:54:48 only one thing it's blaring out or I've had situations where actually had a woman, follow me into a closet, of at an event space trying to get me to talk to her.
14:54:58 And she wouldn't take the queue.
14:55:02 So, I think I wish there were more people that understood maybe certain like or said what are your warning signs like, what are your, what's your, what's your words when you need a little bit of more grounding or tethering or understanding through this,
14:55:16 you know, through the sessions or through this work.
14:55:21 And I think we can teach, maybe more neurotypical folks how to honor their own, you know, nervous system boundaries and sensory situations, by knowing that not everything is a crisis or an emergency, needing to be answered in that moment, and sometimes
14:55:43 things like life need to develop and grow like like a plant, you know like, it's like you don't, you know there's that saying like you don't plant the seed and then have the plant there you know you have to wait for things to develop just like you you
14:55:56 develop. Right. My practice is consistently changing and growing I obviously don't have the same practice that I had at 17 or 18 emerging out of rehab, like, there's constant room for growth and readjustment, and evolution and course correction.
14:56:18 And, you know, and I also think you know to touch on I remember whose question was, when asked about, you know, the capitalism factor of all of this and I think there is such a.
14:56:30 Like, there's this weird business end of things that neuro diverse people get pushed to like well you should just do it because you're going to make money and I can't tell you how many situations or relationships blew up because I did not have the capacity
14:56:47 to keep up with what was needed. It was pre diagnosis.
14:56:54 So, you know, I just think that there needs to be more allowance for individuals own like bandwidth or battery levels, and I, and it has to be on an individual basis it can't just be like one blanket thing because everyone is so different and operate
14:57:14 some works differently.
14:57:18 and works differently. So I'm not sure if I'm answering that question, but I think that the neuro divergent folks who, you know,
14:57:29 and, and. So Mike. I don't know why this is echoing.
14:57:34 So Mike. I don't know why this is echoing. All right, let's see.
14:57:36 Okay, great. Thank you.
14:57:38 But, you know, I think it's just about the
14:57:45 teaching people that, you know, to be more deliberate, or
14:57:52 aware, or just it's just a different I don't know I always see my autism as being I have a different operating system. So I try to explain to people that way.
14:58:02 And they seem to get it when I'm like, you're running on OS whatever and I'm running on this, and then they seem to get it.
14:58:10 So that's one way of putting it.
14:58:12 I guess that's all I can think of at the moment.
14:58:19 Yeah, thanks for that I think that's a useful metaphor, and it, and it goes back to.
14:58:26 I mean Julie linked me to an article about clip time when we were starting to work together a little bit, it does go back I think to something that is a real gift to all of us.
14:58:35 It's like, let's unclench from this like terror of productivity a little bit. And if we can learn to adjust that way because of each other's operating systems that will be a greater gift.
14:58:48 I want to pass to the links to Amanda, because I know you have to go teach some kiddos right at 330, and I would love it if you had a chance to respond to any of these questions that jumped out for you.
14:59:17 Well, you're muted.
14:59:11 I have no idea how to segue right now, but I appreciate this.
14:59:23 Should I or has answered them, I think if you want to look at anything that's been asked so far, or even your own questions that you felt like you wanted to share an answer to.
14:59:36 I am really interested in the idea of what your neuro divergence can teach the world or teach, which, which is what does it teach us about our practice.
14:59:49 How does it inform your art. what are you learning from it, and then also on the flip side, like, how can.
14:59:58 What are ways that we need to be more accommodating to each other's operating systems, those are two that stood out for me but there are a lot of really great questions and we will share all these questions on our social and on our website afterwards.
15:00:11 When we share this whole episode, and the transcript. So, please consider these conversations starting points.
15:00:20 Okay, maybe I'll just kind of do like a word vomit of all of the things that were evoke with the questions.
15:00:33 It's like, how to unmask for. So like, leaning into talking to plants and spirits.
15:00:48 Being on a lifelong journey of trusting your inner voice, and knowing that, that's been something that has not always in true for myself as somebody who has had the experiences I've had.
15:01:01 So having that language of neuro divergence to repair it yourself, and reclaim. Early life experiences, your connection to the mystical without that self awareness.
15:01:17 You end up hanging on to societal notions of guilt.
15:01:24 I think
15:01:29 there's all always kind of social norms around talking taboo that kind of come into play when it.
15:01:41 I don't know I feel like it envelops about a bit of everything.
15:01:46 And then there's a question about past life links between or divergence and magic and I just had this
15:01:57 this sense to go into astrology. So like, in an astrology we can look at nodal patterns and chart themes Cairon or Pluto aspects nodal squares in evolutionary astrology.
15:02:17 So often themes like persecution or placements of asteroids like head cut a and other asteroids that are very tight in orb to a personal planet can speak to repeating or trending archetypes and form like an inner dialogue or reflection.
15:02:36 Sometimes the soul has urgency to fix past life problems or a person will be in a different life situation to settle old karma.
15:02:46 For example, being autocratic or a leader in a past life and in this life, having a disability, or social difficulties to develop empathy and develop those parts of self further.
15:03:03 And I think around barriers to deepening practice had a lot to do with colonialism so always kind of being bad at history and geography in like school, I realized that it had a lot to do with colonialism and not remembering the names and history, had
15:03:25 to do with uncovered and lost history so
15:03:30 a lot of obfuscating or hiding the truth in general and kind of just trusting that, not knowing those things are not feeling like those stories fit is actually part of our truth telling.
15:03:49 When I was in my mid to late 20s I started connecting more with Bill new make more practices and then everything started clicking.
15:03:58 So when it comes to like the, I don't know, melting pots of weird word but when it comes to all of that like we have all of these diabetes and practices that sort of mishmash and there's a responsibility to ourselves to like, come into our identities,
15:04:18 and knowing that you don't need to blame yourself if you don't know your full history because of that colonial piece, a lot as well but also knowing that the things that were drawn to has a lot to do with our ancient lineage Joseph has a lot to do with
15:04:38 the things that call to us and have been called to our gifts so like, knowing that we can be ethically responsible by undergoing that process of really like claiming parts of our identity that identity.
15:05:01 Hidden, or maybe even marginalized, or
15:05:13 knowing that the way that people in charge.
15:05:18 erased us, you know that violence put upon us even as people who
15:05:26 are late diagnosed autistic who are in that female spectrum of things too so that language wasn't there before.
15:05:38 That has often kind of looked at our own shame and guilt and trying to add masks to be socially adjusted in certain ways so
15:06:02 getting getting through that unraveling process and trusting trusting yourself a little.
15:06:25 When it comes to like not taking on and adopting years and years of self belief, and I'm getting distracted by the chat but I'm just trying to keep the train of thought, kind of,
15:06:37 I don't know, I think I said quite a bit, maybe, like, they're like little morsels I'm sure other you are like gonna trickle into maybe.
15:07:02 I think you said a lot too. And I think we don't have to be trains, we can we can be sprouts.
15:07:02 Lucy we haven't heard from you in a bit to feel like there are some spots in there you want to spread along with.
15:07:12 Yeah, definitely. The, the kind of a piece on on shame.
15:07:18 You know, for me it's been a big thing.
15:07:21 And for me, my journey to discovering my autism, was very much a journey of discovering my voice and discovering discovering myself through my writing a lot of autistic people tend to work best in the written word, it tends to be a way of contacting our
15:07:54 inner world. And I guess it's it's a spacious thing isn't it, you have the time and the space to, to find the right word to to hone in on a feeling or a thought, which, when you're, you know, kind of in speech can kind of flit and disappear or.
15:08:17 Often we find it very difficult to identify our feelings at all. And so for me, writing, was the way into discovering this this self that I had had to mask from the world.
15:08:33 And
15:08:36 so for me, language, and language thing has been a massive part of my journey.
15:08:45 Being able to language the silence parts of myself, the parts that I kept hidden in in shame.
15:08:54 And I realized when I was kind of reflecting
15:08:59 on the questions that the others posed was that masking my magical self and masking my artistic self have been one of the same process, the crossover between my artistic self and my magical inclinations abilities have been the same.
15:09:26 And that was really interesting to me, so I had learned on a very basic level from the very beginning that I was not normal.
15:09:36 And that was not okay.
15:09:41 But that that thing that wasn't normal and wasn't okay was both my magical self and my Autistic Self, and I can't on braid, the two.
15:09:53 And so for me the last few years have been a process of coming out, because to be to understand myself as autistic rather than flawed autistic rather than wrong has been vital.
15:10:11 And then to be able to allow myself to be seen as that, but also. So, in my magical beliefs ideas practices which is really tricky. In, you know I listened to you all talking and I think, Wow, it sounds really cool where you live.
15:10:30 Like, I live in rural Ireland like I live in a small Catholic village.
15:10:35 And you don't get to be an outward chair.
15:10:38 So, I'm being being an outward, plus an autistic person in a very small conservative community is is really tricky thing to do.
15:10:48 So it's a, an experience of great vulnerability and something that for me has meant that my practice both magical and creative is very solitary, and not necessarily by choice, but by need for safety.
15:11:08 Me, for,
15:11:13 for, not for social approval but to avoid social trickiness and.
15:11:22 And so the question I posed was, how do we get to, to, to share this together, is, is multifaceted because, first of all, there has to be a kind of a degree of self understanding and acceptance.
15:11:42 Before we can kind of come into community.
15:11:46 Because often otherwise.
15:11:49 If we don't have the language or the understanding for ourselves, it's trickier often to interact with others because we're dealing with a huge amount of unprocessed or not understood trauma often, especially in group settings.
15:12:05 And then there's the trickiness of social interactions and, you know, each of us, near division people having slightly different comfort level, and ways where ways of interacting socially.
15:12:25 And then there's, there's the part that, you know, kind of, we get very overwhelmed, like, I love the fact that you've invited a circle of us here.
15:12:36 And it has been really tricky to be able to navigate that socially knowing when to take ones place when to speak.
15:12:52 What to speak how much to say, because I'm very used to doing podcast interviews, but for me it's a one on one experience usually, and that is somewhere where I can dive deep, and follow my own trains of thought.
15:13:12 Whereas in a group situation it's a very, very different thing.
15:13:22 So, it's for most of us who are near a divergent, we've we've, we have very rich alive in a world, and it's often interacting with the outer world that is trickier.
15:13:35 And yet, when we are able to see that we're not alone when we're able to interact with each other when we are able to see ourselves, not as wrong or different or strange, but like wonderfully weird gifted differently.
15:13:57 Then we're able to weave those gifts together, you know, we were able to weave all magic together and they are far more powerful than the the the individual parts that we have, but for so many of us, there is a lot of shame.
15:14:12 There is a lot of overwhelm, a lot of fear to overcome to be able to come out into the world at all just to do your shopping just to be able to drive a car or walk down the road, that's big enough, let alone to be able to enter a group space, and then
15:14:31 let alone to be able to create magic to make art, whatever it is together like they are all very big steps for most of us to do because we are naturally solitary, and we have learned to be solitary because it's safer.
15:14:48 So, when we are able to overcome those things, magic happens. And I am so grateful for the times in my life when I've had that, but they are very few and far between.
15:15:03 And that does make me sad because it's not always chosen.
15:15:11 I just really want to repeat something you just said Lucy.
15:15:15 We have learned to be solitary because it's safer.
15:15:19 And I think so many of us can apply that to our lives for many various and different reasons. And again, part of the reason that Risa and I hold these circles is to make a brief safe space where you know we are one and and not the other.
15:15:38 I think I mean it's heartbreaking to know how much valuable perspective and visionary amazing this that we have lost by making the world unsafe for people who are different.
15:15:55 So I just I'm going to say it one more time. We have learned to be solitary because it's safer.
15:16:02 It just, I'm ready.
15:16:06 I'm ready wrecked it such a succinct way of putting out so many of us feel.
15:16:12 I love you. Thank you.
15:16:31 I will say, We sometimes leave ourselves muted, and let the silence hang. And that's an invitation.
15:16:39 So, if you feel like we're do that and it's.
15:16:44 You're always welcome to step into it, I'm gonna open to questions from the community in a minute. But if there was something that you felt you really wanted to respond to Yeah, Sarah.
15:16:57 Yeah.
15:16:59 I was just having a desire to sort of in the spirit of like navigating my own shame to kind of address the statement I made earlier and kind of driving full circle because I think there was a part of me that was seeing those two spheres as interactive
15:17:12 and not naming that verbally. And so I just wanted to name that I think what can be so challenging about the way that gate keeping can have a way to get you in functions and can function in magical spaces is that there's also the pairing of that that
15:17:28 that joy and sometimes that being seen and so to untangle the places where you feel pushed away and the places where you feel invited in can be really really challenging and make that process really hard to emotionally understand.
15:17:42 So there's a part of me that felt.
15:17:45 I just want to make sure that I that, especially Brandi knows that I hear the ways in which you have experienced some of these really challenging things and I so value that you brought that to the table, and my statement was mostly to invite in the nuanced
15:18:01 complications as I experience it around that emotional emotional core. And then the other thought I just really briefly wanted to throw out is this feeling of like porousness that I is sort of how I named my own narrow divergence, which speaks to that
15:18:21 overwhelm because we're I think I'm going to say we and if anyone wants to jump in and say that this doesn't apply to them please do so but I think that we are actually processing enormous amounts of information that other that other people that people
15:18:36 who may or may not experience or divergence aren't having to filter through, and that that's the gift to write because we're, we're accessing those pieces we may be in communication with our non human friends we may be in communication with energies and
15:18:53 colors and light and the hypervigilance of tiny muscle movements in the face, and that can lead that porousness can lead to a need for harder boundaries in community.
15:19:07 And I, yeah, there's a desire here for me to speak to just this feeling of like,
15:19:16 it's like extra sensory perception, you know, And, and that's why they're so interrelated. There's so much bounty to touch and then also to filter that out and communicate it clearly and succinctly can be such a huge challenge so I look at the last little
15:19:36 thing I'll say is I wrote this note that's from Amanda slashed links.
15:19:41 And it's a, it's a real summary of something you said that it's going to stick with me forever which is history is hard to remember if your soul knows the truth that other truths through lived experience.
15:19:52 I thought I found what you're saying about that really really really compelling and really wanted to just echo it.
15:20:04 Sarah Can I just say, I totally understood what you were saying, and I appreciate that comment, because I, I felt similar ways and it's almost weird, the dichotomy between being welcomed into a space but also feeling like an outsider, like, what Marcella
15:20:26 has said.
15:20:28 It's very, I would say, destabilizing in a way so I've had both experiences and I, I hold space for that for both of those that you mentioned.
15:20:45 I think something that I really want to share is that the one of the gifts, I've found with my neuro diversity is because of that ability to kind of sense.
15:20:59 The truth, even if it isn't presented.
15:21:02 And I think that was one of the things that got me into learning more about Taro and astrology like when I was in rehab I needed something to do and I couldn't hang out with my friends.
15:21:13 And it was like 1995 and nobody was going to rehab, you know it's like pretty new.
15:21:21 And the thing that always blew my mind was how even with like teaching myself Taro, I didn't have a book I didn't have a mentor I just like through the little booklet away.
15:21:34 And, like, just went on intuition and like pattern recognition.
15:21:40 Noticing colors, because that's what I do I look at Chi notice reoccurring things and images numbers and.
15:21:48 And I think that there was something I mean I knew the book was bullshit, for lack of a better word, and it's just like a lot of things and I know not everybody has that luxury but I've always been like that my whole life was the only thing nobody could
15:22:06 take away from me was my mind.
15:22:04 They could take everything away from me.
15:22:06 And they did, you know at different varying points like like object wise physical thing, you know, even my health but no one could take away my mind.
15:22:16 And I really attribute, like my autism and ability to, you know, know that like, okay, there's something under this I don't know what it is, but my every cell of my being knows what the truth is like the truth is not this what you're telling me.
15:22:38 And so maybe just also showing up that when we do recognize because the other thing too is not everybody likes truth teller.
15:22:45 Or they get very upset by it so sometimes being our diverse and being in spaces and you're like hey, this doesn't feel right, but you don't know why, and you get labeled this kind of being difficult or problematic or because you because you just don't
15:23:01 necessarily have the, the facts that information for them but you know something's off.
15:23:08 So just want to encourage you know other neuro diverse, which is in creators to, you might not know exactly why something doesn't feel right or doesn't sit but also, that's why I have so heavily have become the type of person that I am today and I in
15:23:28 that is not perfect by any stretch.
15:23:31 But I want, I want to be the person that I wish was there for me. And I say that's why I teach terrible routines. That's why I try to teach different practices like you don't need the crystal you don't need the thing but you need your brain, in the sense
15:23:45 of, you need your own unique voice, and you're the interpreter.
15:23:51 You know, so I think the more we can kind of foster those kinds of dynamics within it, we're holding space, you know for others.
15:24:00 And the thing is you don't always have to be teaching, like caught like forward consciously giving instruction, I really am a firm believer in like your example you being a living testament to why it works is gives other people permission to say.
15:24:18 So,
15:24:24 can I just piggyback off of what Marcella said, I love your share so much, and just speaking to the pattern recognition, I know in my bio I put that I think that at a autism, excuse me, getting Tongue Tied autism and ADHD I put that they were kind of
15:24:45 like my superpowers, and looking at some of the questions in no way it wasn't meant to romanticize, you know these conditions but I just do think of them as you know ways that like our brains are information superhighways and we make connections and see
15:25:05 things in ways that people don't.
15:25:08 And, yeah, it's like, I teach a lot just in the way that I read Taro like, I don't see how to separate explaining what the cards mean, and I think people pick up a lot, you know of learning the taro through that.
15:25:26 But then also speaking to being truth tellers, I think there is an aspect of neuro divergence where, at least for myself it's like I have no chill and no filter.
15:25:41 And sometimes, I think, you know, I can be a little bit in your face with the way that I say things because it's that level of intensity that we bring especially if you know in learning about my autism diagnosis, your special, special interests and how
15:26:01 intense they are just being able to channel that and say, you know, like this means a lot to me. And, you know, like, I've been experiencing a lot in social media lately where it's like pointing out the hypocrisy a little bit of people who say they want
15:26:23 to show up for marginalized communities or people with disabilities, and how punishing algorithms and things can be for creators who don't work consistently and push out content consistently because we're not made that way.
15:26:41 But, asking the communities who say they show up to support us like, you know, this is the way that you can support me without donating a dime, you know you can subscribe to my YouTube channel you can share in your stories you can share bookmark posts,
15:27:06 are little things that show, you know, your support and show that our voices are valuable. So it's like, I think I've been a little bit of a fly in the ointment and a pain in the butt I think that's really important is, you know, being those, you know
15:27:19 those truth tellers those, you know people who really confront some of those policies that we're seeing where, you know, the, the most marginalized among us really do need to be lifted up the most in these times, so just really been feeling that lately,
15:27:39 especially in this year where it's, you know, in numerology it's ruled by Venus, and you know it's meant to reflect our values and collaboration and just mutual support so yeah I don't know exactly where it was going with that next but yeah just speaking
15:27:59 to that, like, really coming from your place of truth.
15:28:04 I think that's important for us is neuro diverging people.
15:28:13 I'm going to turn it to Tanya. If you'd like to ask a question or offer a response, we'd love to hear from you.
15:28:23 Hi, good afternoon I'm Tanya mark. So, I use the pronouns today them. I'm on Tanga man, also known as Long Beach, California and it's an honor to be here and I just want to thank each one of you, the panelists for your shares and as a good index breathe
15:28:39 x, and spiritual programmer.
15:28:59 That has switched gears from teaching high school of 20 years to, you know, re training refocusing my lens to being of service to my community and the collective, I would like to know, as a breath work facilitator and, and as such.
15:29:00 Are there things that I can be doing in holding space for our community, and if so, could the panelists speak to. Are there ways in which you know I'm handling group or one on one work that would be more inclusive, loving, compassionate, whatever it is
15:29:18 that would help to support the spaces is kind of my question. Each one of you have such beautiful magic to bring that I wish I could ask it individually but I understand, on a group level.
15:29:32 I just, you know, thank you so much to each of you for sharing your magic and, and it's so wonderful to be in such a transparent loving space for the last hour and a half of just being amongst like minded community and I really appreciate that.
15:29:49 So, if you could speak to how what tools can be added to spaces to support.
15:29:57 That would be amazing. And Asha, thank you so much.
15:30:01 Thank you, Tony Mark, thank you so much.
15:30:12 I've got a few kind of bits and pieces that I've found very helpful myself, and I just wanted to bring in some terminology here which might be very useful for people.
15:30:22 So the first thing is demand avoidance. So, when you are in a class, and you get told to do something. and many of us who are on the.
15:30:45 cut loose you can't hear you
15:30:51 know it's not even a rational, logical, it's it's an anxiety based response.
15:31:02 And so, in the classes it's often very helpful to, to how you frame your language. So I invite you to or giving a couple of options when you're setting up an exercise.
15:31:18 So that, that sense of impending anxiety and the need to avoid the demand is relieved from us.
15:31:31 The other thing to be really aware of, is when giving any sort of feedback in a class situation.
15:31:39 Many of us both on autism spectrum, but also with ADHD struggle with something called rejection sensitive dysphoria, which means that if we perceive something that you're saying, as in any way critical to us.
15:32:01 It feels like physical pain.
15:32:04 It is as though you are being stabbed in the guts there isn't an ability to logically say, oh, they're just trying to help me or they're trying to give me useful feedback or constructive criticism.
15:32:18 It goes straight into the nervous system straight into fight or flight, and can lead to a massive kind of reliving of trauma, shut down need to escape, which to the teacher or the facilitator can seem like an extreme response to, I was just trying to
15:32:36 help them I was just trying to give some useful feedback to how they were doing so they can learn. And actually, it is so triggering, but to the outside it does seem just like so disproportionate to what has happened.
15:32:52 But I just need to speak from the inside of that which is that it is.
15:32:58 It is as though somebody has stopped you.
15:33:01 I mean, and your system goes into how do I keep myself safe now.
15:33:08 So those two things I would say a very helpful to understand, when you're dealing with your divergent folk.
15:33:18 And also just as much as possible, offering information in as many ways as possible so always having written as well as audio instruction invitations directions as not just written but also photographic so that there are several ways that people can access
15:33:39 and feel safe, and that there are things that they can focus on when they might be experiencing high anxiety, there is something that can anchor them back into the space in a way that feels safe.
15:33:54 So for many of us, we are hyperlink sick, which means that we read as a way of stemming as a way to center and settle ourselves we will read every piece of information that we can in a room as a way of centering ourselves.
15:34:11 And so to be aware of what you kind of share in the space because often the energy is too big. The unknown is too big, the unspoken is too big. So if we can have somewhere where we can safely land, that feels familiar that we can rest, that might be kind
15:34:30 of helping us to understand what is expected of us what is expected in this space.
15:34:37 That can be extremely helpful.
15:34:44 Thank you so much things are so concrete.
15:34:51 And I think there's.
15:34:56 Thanks Teresa, I saw your question I was going to share it, but I'm also feeling really.
15:35:03 And like I want to be really loyal to our container that we've set.
15:35:08 I want to I want to have all these conversations, more and in more depth with all of you but I also want to release you from this sensory overload and want to kind of let us spin out from here into all of our other obligations.
15:35:29 But I'm so like I feel so much hope from being here with you.
15:35:37 I do feel that same feeling that was expressed here that sometimes you can walk into a magical space and feel so at home and so safe and then suddenly they'll be something that jobs you out.
15:35:55 That makes you feel deep play like a piece of you isn't welcome.
15:36:02 And we're just trying really hard to learn from as many people as possible to make spaces that allow us to get to learn from you.
15:36:11 You are the people we've been missing. So, thank you for sharing yourselves with us, and your insights and your wisdom. And when I woke up this morning I was half in a dream, and these words were yelling in a circle in my head.
15:36:30 They think they were directed at JK rally but you hear it. Our inclusion is an intention. And it's a spell of protection
15:36:43 trans women are here in our circle and our spell of protection, which is neuro divergent.
15:36:53 All of the marginalized people and races and religions.
15:37:05 Our goal is to make a circle that is a spell of protection and to just not talk up too much on our journey of trying to make a better world.
15:37:09 We love you, Amy. Did you have a reading for the end of this.