Hey, it's Amy and Risa from Missing Witches. We wanted to invite you to celebrate the launch of our second book (what?) New Moon Magic: 13 Anti-Capitalist Tools for Resistance and Re-Enchantment.
Pre-orders and library requests help SO MUCH when trying to get a weird new little book to the people who might love it. Thanks so much to those who have been doing that and letting us know, it's been so emotional getting your messages.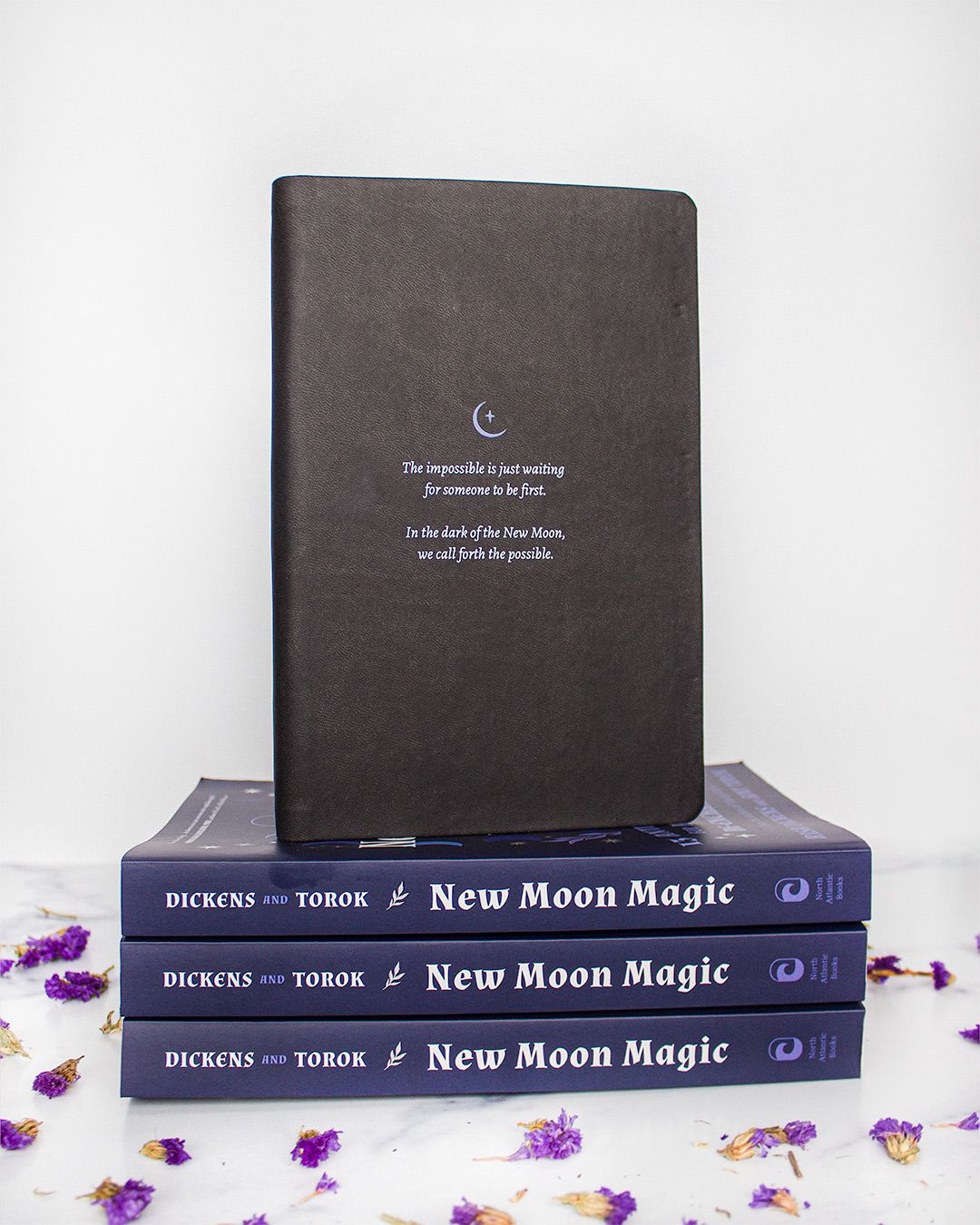 Pre-Order Gift
The Impossible Is Just Waiting for Someone To Be First. 🌙  
*** Get a free notebook when you pre-order NEW MOON MAGIC before September 12! ***
Pre-order the book from any retailer and submit your receipt via the link in our bio to get a free notebook!*
⁠*⁠Please note that this promotion is available only to readers with US-based mailing addresses. Promotion is limited while supplies last.⁠
Form Link: https://forms.gle/VV3FQc1pBwFU3rEr6
---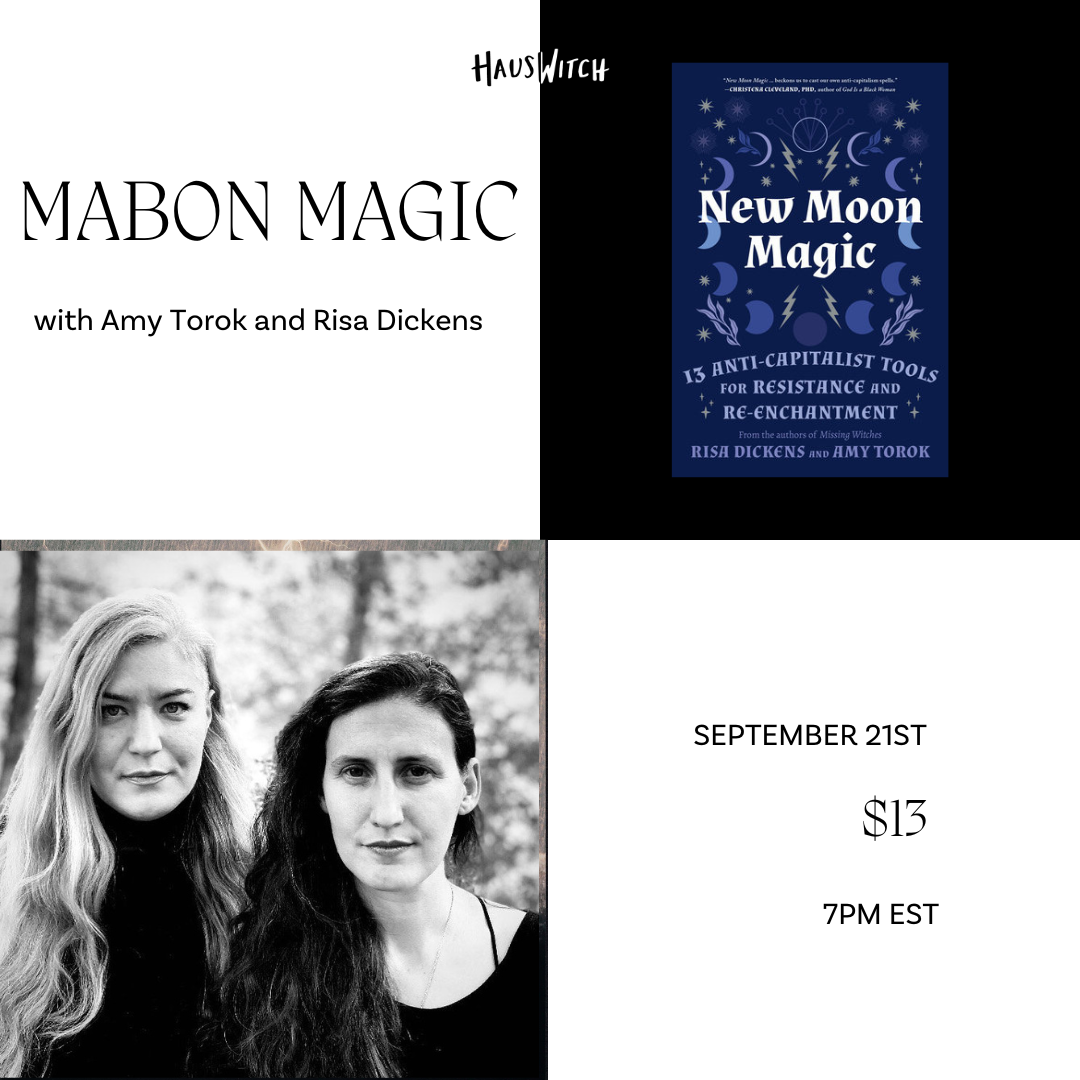 SEP 21: Mabon Magic w/ Missing Witches and HAUSWITCH
Thursday, September 21, 2023
7:00 PM - 8:30 PM $13
A Virtual Witch + Stitch celebrating Mabon with the authors of "New Moon Magic: 13 Anti-Capitalist Tools for Resistance and Re-Enchantment" and "Missing Witches: Reclaiming True Histories of Feminist Magic."
Amy Torok + Risa Dickens of the Missing Witches podcast, book, and coven are launching a new book dedicated to sharing and celebrating free tools and practices of resistance and re-enchantment.
Step through the Equinox portal with us!
Order Missing Witches from HAUSWITCH here
Please email hello@hauswitch.com with any questions or to inquire about scholarship tickets (available on a first-come basis).
---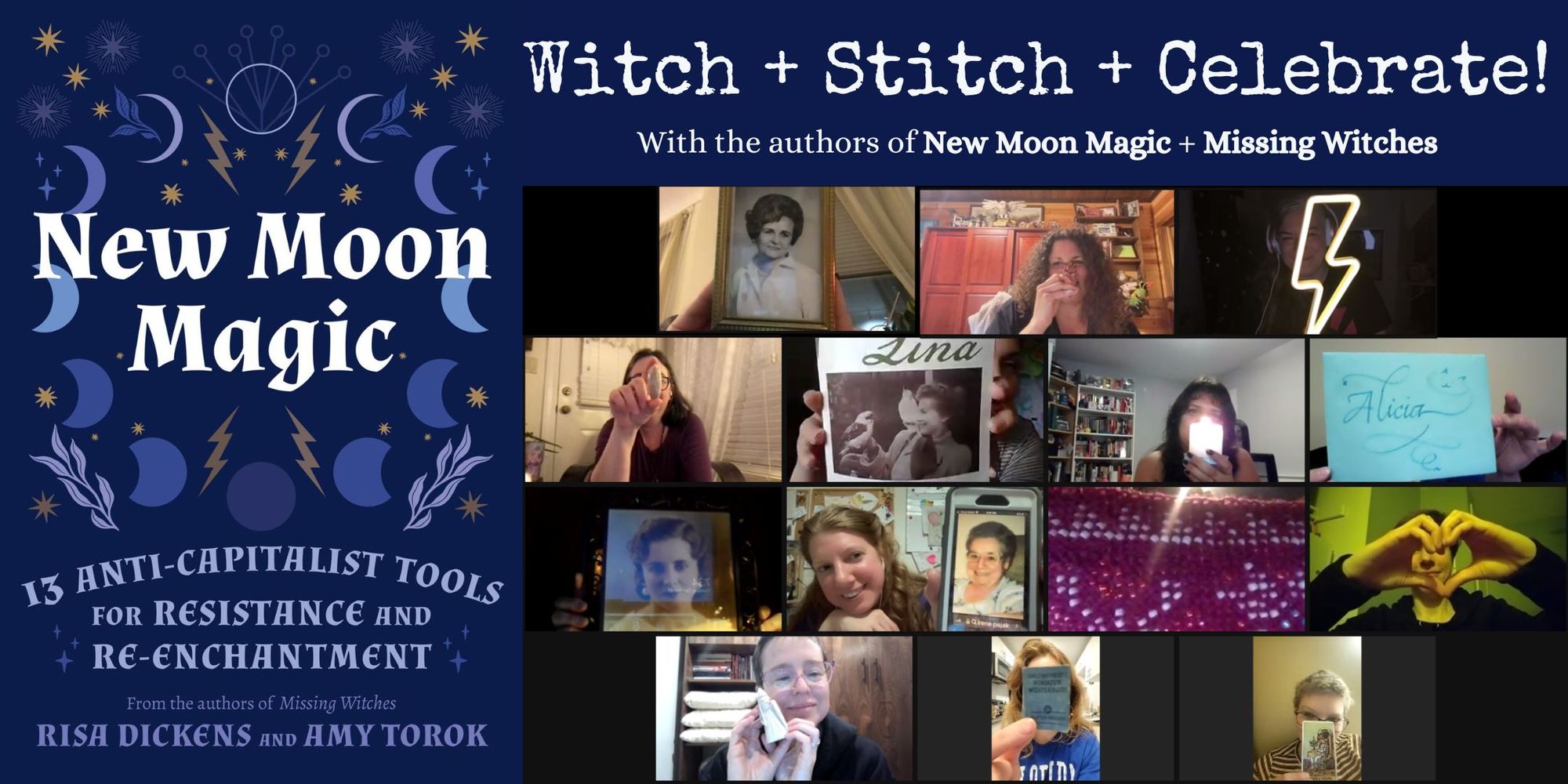 New Moon Magic Witch and Stitch Book Launch!!!
Free Virtual Party October 14th!!
Come virtually hang out with us and our coven, October 14th under the new moon!
Bring whatever project you are currently working on and let's talk about tools of magic, resistance, and re-enchantment. While we're at it, let's weave protection into the web for all those who resist fascism, and who work - in their own unique ways - to re-enchant the world.
This virtual event will be hosted by us, in conversation with the incomparable Christena Cleveland.
"New Moon Magic summons us into the gestalt wholeness amid vast difference that can save us from binaries, from antirelationality, from capitalism, and from the type of death and decay that does not plant seeds and replenish the soil."
- Christena Cleveland, PhD. Author of God Is a Black Woman.
This event is produced in partnership with select indie bookstores around North America, folks we admire and adore and whose communities we are excited to meet and connect with.
We encourage you to follow these amazing bookstores and - if possible - to pre-order New Moon Magic through them and support their work!!!
Special thanks to the wildly inspiring indie bookstores below - not just for carrying our book and inviting their communities to Witch + Stitch with us - but for everything you do to build communities, celebrate diversity, and protect every person's right to tell their story and speak the TRUTH in the face of oppression, marginalization, and violence. This is the most profound magic and we feel so lucky to be linked to you.

Charis Books and More, Georgia
Charis Books and More is the South's oldest independent feminist bookstore, celebrating radical and independent voices since 1974! Together with Charis Circle, our 501c3 programming nonprofit, we exist to foster sustainable feminist communities, to work for social justice, and to encourage the expression of diverse and marginalized voices. We are located in Decatur, GA, and we are proud to be the school store partner for Agnes Scott College, a historic women's college. We specialize in diverse and unique children's books, feminist, and cultural studies books, books on anti-racism and ending white supremacy, and lesbian, gay, bisexual, transgender, and queer fiction and non-fiction. Follow.
Books & Books@The Studios of Key West, Florida
Books & Books @The Studios of Key West is the brainchild of a small group of local booklovers, led by George Cooper, who previously founded the Tropic Cinema, and his wife, the beloved writer Judy Blume. It is a joint effort of two respected organizations, the Books & Books stores of the Miami area and The Studios of Key West, each of which brings its particular capacities to the venture. We're Key West's locally-owned, nonprofit, independently-minded neighborhood bookstore. Follow.
Montana Book Co., Montana
Montana Book Company is an independent, LGBTQ+, locally-owned, bookstore in downtown Helena, Montana. Our welcoming and inclusive space is the perfect place to find the latest book releases and classic titles. We are defenders of equality, anti-fascist, anti-racist and community-centered. Follow.
A Room of One's Own Bookstore, Wisconsin
A Room of One's Own is an independent, queer and trans-owned bookstore in Madison, Wisconsin on Ho-Chunk land. In 1975, A Room of One's Own was first founded in downtown Madison as a feminist bookstore named after Virginia Woolf's 1929 essay of the same name. Today, Room continues on that legacy as a radical queer cultural hub in Madison. We seek to center marginalized voices, small presses, and be a place for learning and liberation through our events, partnerships, and curated selection of books of all genres. Follow.
Blue Cypress Books, Louisianna
Blue Cypress Books is a local, woman-owned, New Orleans bookstore and has been a warm and welcoming place to find high-quality used and new books since 2008. BCB is an inclusive space where we speak our minds and invite open conversations. They are proud members of the American Booksellers Association and the Southern Independent Booksellers Association, and are consistently rated as a top bookstore in the city. Follow.
Windowseat Books, BC
Windowseat Books is a cozy independent bookstore in the Old City Quarter of Nanaimo, British Columbia. The space is small but the books are mighty! Tired of working corporate, owner Andrée Bizier decided to combine some of her favourite things like reading, adventure and chaos and opened Windowseat Books in August 2018 on a whim. 5 years later, it is still the best journey she has ever undertaken. Reading is cool!! Follow.
---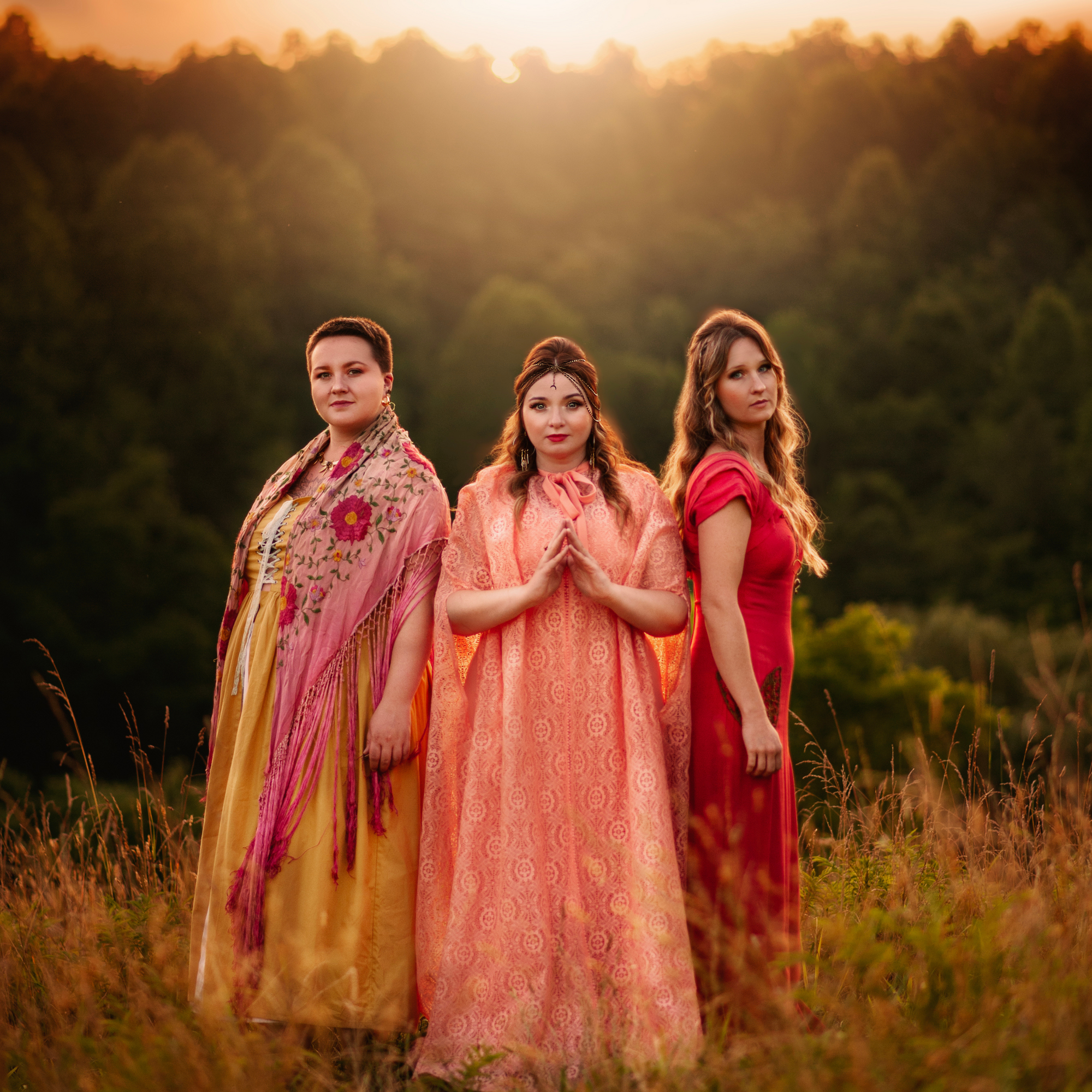 AND check out a new song from our Covenmate Adrianne Blanks:
Video: https://youtu.be/xlZg77tCrKQ

And on streaming services! https://open.spotify.com/track/0rZsLjLqnISqePpp2kLCXt?si=86050a6ceeef4ae8
---
Ok, love you soon,
oxo R+A
PS - Season 8 of the Missing Witches Podcast begins Sept 21! Make sure you follow/subscribe wherever you get your pods!